Wondering what books the Kreme has published in 2013?
Needing another heaping helping of Kremey goodness?
Here's a list of the books, short summaries of each, and links where you can find them!
Books are listed from last published in 2013 to first published.
The Kuickies #5 – Happy New You!
Mandy Fate is about to meet the new year, and with that new year will come a fate of her own. She's typically fine after a few drinks, but the party she has attended to ring in 2014 is not the source of her nervousness.
For a very long time, Mandy has been communicating by email with a man she met online. She originally contacted him purely out of interest in the fiction he wrote. Erotic fiction was definitely a kink as far as writing was concerned, but this man met all her kinks and more. The emails, the late night games, the photo exchanges and even animations to go along with little stories he would write just for her; all were what drove her pulse to race right now.
They were finally meeting and seeing where such a meeting would take her, though as Mandy Fate would soon find out, New Years would bring some very big changes in her life.
As the countdown begins and she stands beside the man she has admittedly fantasized about more than a few times something very unexpected happens. With every number the crowd shouts counting down from ten, Mandy finds herself changing, her body heating up, her mind melting down.
Discover the best way to welcome the new year, with a new you, just like Mandy Fate, who is sure to find the new year holds many new experiences, thanks to the powerful influence of the new man in her life.
Petey the Pervy Elf
Everyone knows that Santa has a lot on his plate around this time of year. He has so much work to do that doing it alone would never work and so that's where the legendary helpers he calls elves enter the picture.
However, not all elves are as jolly and kind as old Saint Nick. Occasionally there are elves with attitude, elves who find a few better things to focus on that harmony and world peace at this time of year, and most disappointingly, elves that choose not to focus on their jobs and helping out their fellow elves.
Petey is just such an elf, having been a nuisance as long as Santa can remember. Petey rarely has any interest in his fellow elves unless it's a perverse interest in watching the cuter ones get undressed. The time has come for Santa to punish Petey, to set Petey's mind back on track by using the mind scrambler, a magical machine that only works to wipe an elf's mind clean and begin with a blank slate of cheery conformity.
Petey has to avoid this punishment, and the way becomes clear when Santa locks him in a room to await his mind scrambling. Petey the Pervy Elf discovers that this is the very room where all the rejected letters to Santa end up. Many who write to Santa as a joke or just out of corrupt intentions or desires have their names permanently on the naughty list. This year Petey has just the thing to make those naughty desires in the rejected letters come true.
Using some sneakily stolen wishing dust, Petey sets out to read the various letters, choosing particularly perverse ones to grant their every desire, even if the desires are depraved and dirty.
Thanks to Petey this year, a senior in high school will have his wishes for a truly aphrodisiac body spray come true, every female in range instantly in heat for him. Devon, a married man with a cold wife who constantly insults his manhood will have endless stamina and the ability to quite literally cum a firehose worth, thawing out his wife in no time. And finally Beth, an entitled girl who loves sex and doesn't wanna have to work for her money will find the world accepting her as nothing more than a fuck toy to toss money at with less discretion than a vending machine.
Petey the Pervy Elf is creating post-Christmas chaos and proudly perverting the planet, one naughty wish at a time.
Adventures in Santa-Land
Siblings Nick and Belle have always known their mom was a little obsessive about the holidays, particularly Christmas when the family is all together, each of them returning home from their respective colleges.
This is one of the last Christmas Eve's they will have as a family, at least before Nick graduates and moves on with his own life. Apparently his mother has chosen to go all out with her Christmas Eve activity of the year, announcing in the car that their father is driving them all to Santa-Land, an elaborate themepark where everything is Christmas related. The rides, the park designs, the shopping; it's all Ho Ho Ho and as the kids might soon discover, the Hos might be the most fun of their festive yearly tradition they've ever had.
Soon after arriving at the park, a break down between enthusiastic Mom and the kids leads to her throwing her hands up, saying the kids can each go off on their own. She only asks one thing, that they return at the end of the day to go home with much improved attitudes and filled with more of the Christmas spirit.
As rebellious nineteen year old Belle goes off to do what else, shop the festive fashions, Nick wanders the park, actually finding that the elaborate decor is pretty impressive in places. However, Santa-Land hides some secrets, ones no one might ever expect and ones these two siblings will each discover on their own with irreversibly perverse results.
What will happen when Nick has an incident with an artful carving of Santa Claus? Will he find his lap irresistible to women of all ages, women who desire to prove just how naughty they can be this year? What will happen when Belle tries on some festive stockings and gloves, ones in a bin labeled Irregular? Will her own desires become much more than just irregular, the stockings and gloves heating her insides up until all morality and decency melts?
Find out as you take a holiday journey into Santa-Land, where only the Kremiest adventures await you and two siblings named Nick and Belle find that getting filled with the Christmas spirit might just mean taking or giving a serious stuffing of their own.
Holiday Handling
Rachel Handler is a woman in a largely man's profession. In recent years she took over her father's independent trucking business, driving custom loads all over the country for the lowest bid. This year she might just get a load even she isn't fully prepared to handle.
Nobody Handles a Load like Handler is the slogan on the side of the truck but when Rachel underbids all the other competition to win a mystery load, only described as being very large and with the potential for multiples, she doesn't know what to expect.
Ordinarily she gets the measurements and weight before ever agreeing to transport something but this seems like easy money and the bids are all high due to the unknown factors involved. Rachel has always undercut the competition, using her feminine charms to earn perfect feedback and gain more business in just her few years than most serious truck drivers gain in a lifetime of work.
While most of the competing truckers despise her, the client she has signed up for with this mystery load might just find her absolutely perfect for his load. Of course there's much more to this load than trucking. As Mr. Leonards puts it to her, Rachel won't even need her truck for this load.
What awaits her in the warehouse where he meets her is nothing like Rachel had expected. The description of a massive load to take overnight with potential for more just doesn't fit the eight foot fiberoptic Christmas tree. A demonstration of how this tree lights up changes everything as Rachel finds herself embracing the job more than she ever has, taking on the heaviest loads of her career.
In the independent shipping business it's often the body of feedback that proves to be the advantage for tackling high paying loads. For Rachel it's simply her body that is the advantage and she'll find herself tackling load after load, really proving that handling the holidays can be fun, even if it wears someone out.
Find it on Smashwords now!
Now on Amazon!
All in the Eyes
Amy was never a slut; at least she never used to be. She was a coed in love with her boyfriend, Mick, and nothing more. Sure, she enjoyed showing off that love in rather lustful ways, and maybe that is why she was spotted giving him a rather secretive and enthusiastic hand job in the theater one night. It wasn't that someone spotted her which would change Amy forever, it was who spotted her, and perhaps more importantly the indefinable power behind those eyes he trained on her that night. Amy could feel those eyes, or more correctly could feel something within them and it wouldn't be long before she felt the stare once again, those eyes taking in her young pristine form. Somehow she knew it was the same eyes, the same unknown observer. When she came across the poster on campus several weeks later, Amy knew what she had to do.
The poster was advertising a photographer, one seeking out students to model for him and earn a little extra money. It seemed a win win situation as far as Amy was concerned and the closely cropped image of the artist's eyes in the poster made it that much clearer that she was responding to this ad right away. Don was a talented artist, a man she almost fell speechless before as soon as they met. As he photographed her, there was always something in his eyes, both calming and exciting. As he had her pose, Don explained the world to her, or more correctly he explained her world.
As it turned out, Amy was not fulfilling her purpose in life, especially with her boyfriend Mick around. Mick was a boy, and what it turned out Amy needed was a man, a man who knew exactly how to treat a slutty little girl like her. Over the course of a number of sessions with photographer Don, Amy discovers a lot about herself and uncovers a lot more each time, revealing the inner slut she has always hidden. In the end, Amy finds her love of Mick in the past and her lust for doing a lot more than just modeling is all she knows.
They say that a photographer's eye is unique and revealing, and the truth of that will be as revealed as every inch of Amy. From college sweetie to dropped out slutty, Amy's story is All in the Eyes.
Bimbo Bombed
A new crime is on the rise and this crime is so diabolically unpredictable even the police can't prevent it. There is no warning besides the chime of an incoming text or the arrival of a new email, perhaps even the simple popup of an instant message.
Bimbo Bombings are on the rise and minds everywhere are exploding with lust and depravity as women of all ages and lifestyles fall victim to it. Of course, these women may just be deserving of such fates as they have wronged many in their lives, been prudes, teases, flirts, and just plain liars, thought so highly of themselves and had the arrogance to believe nothing could ever happen to them.
To celebrate the amazing 100th Kreme Book released, witness the birth of a new Klassic, brand new epic length story, six different women, all experiencing entirely different transformations into the multi-themed bimbos readers have come to know and love. Watch for the 100 theme to pop up in each case, though you never know just how the bimbo bombing will happen nor how long it might take to do those women in.
A single mother who took her ex to the cleaners finds herself eager to dumb down and rediscover the joys of really making an impression on her son's best friends. A young woman who despises anything even remotely sexual loosens up for an entire nightclub of men. A senior in high school who typically forces the nerds to do her homework finds that the new daddy her mom wants to bring into the family might just provide her with a truly 'swell' time. The girl who has gone through college feeling entitled and over-privileged discovers that her required art credit course can be a lot more fun if she sucks the most out of it. The city girl who teases mercilessly with her incredible exotic looks finds that street smarts are not as fun as subway dumbs when she meets a gang of eager guys. And finally, a female detective trying to crack the case finds herself taking the case to heart and then some.
In the vein of SINtendo, Brain Drain, and Shoes to Fill, witness the all new masterpiece from the Kreme this holiday season.
My How You've Changed
Melinda was never expecting to bump into an old friend from high school while grocery shopping. Of course Eric Friedman wasn't entirely a friend. He wasn't an enemy by any means but Eric was not in her crowd during those years. He was the kid everyone picked on, the acne scarred and bullied teenager who despite the awkwardness of growing up had to have more daily torture piled on top.
The ten years since she last saw Eric have been very kind to him, hardly recognizable as the same gangly boy she tried to be kind to. But then Eric surprises her by just how well he remembers those days back in high school, particularly when he mentions that Melinda inadvertently started a rumor that would make his life only that much more miserable, victimized even more so by the school jocks she always spent time with.
It's all in the past, at least according to the man Eric grew into and who stands chatting with her in the grocery store. He's just happy to run into a girl he never could forget, captain of the cheer squad who definitely has not left her beauty in the past.
She has changed though, changed in many ways, Eric says. While Melinda isn't entirely sure what he means, as they walk along the aisles of the store, he points out the changes and sure enough, she has changed.
Or has she?
Some of Eric's observations make her feel things, things she has never felt before, but again… has she had those feelings all along? Have the interests and desires Eric talks about her having always been there inside her? Was she really the school slut, once doing an entire classroom full of guys, including the teacher?
Melinda finds bumping into Eric to be a truly eye-opening experience, but before she leaves this grocery store she certainly aims to do more than just "bump" into him… and quite possibly anyone else who is interested.
One thing is certain, when Melinda returns home to her husband he'll be able to say "My, How You've Changed."
Literally
Uranus is about to feel the heat. Yes, Plutonians weren't the only extraterrestrials in the solar system whose antics on earth will have lasting impressions for a long time to come; now a close encounter with a shuttle from Uranus' only space program will leave the men and women of earth twisted and controlled by their own words… Literally.
After a near disastrous crash into earth, Latsyrhc of the Buttholia Uranus Mission manages to avoid the worst and avoid a fate of being stranded forever on the rather simple planet below. Unfortunately his method of pulling up and out from the atmosphere is by dumping some cargo which includes some decommissioned Literal Bombs, weapons no longer safe to use due to the unusual side effects they can cause.
Dismissing the danger of these bombs, assuming they will simply burn up in the atmosphere, Latsyrhc decides to avoid all the hassle that reporting this incident might involve and continues on his way back towards Uranus. Of course things in one small region of earth below might never be the same.
Outside the town of Cottonwood, some shooting stars have given way to a strange odor in the air, a slightly smokish haze which no one who breathes in will ever imagine just how strongly it will change their lives.
The Literal Bombs did not completely burn up and true to their name they make everything one says come true in a much more "literal" sense. People speak in metaphors all the time but when for instance one woman gets a flat tire and realizes she won't be making the important meeting she has in the morning, her simple exclamation of "I'm totally fucked" starts the chaos that will soon follow.
From her to a loving couple engaging in some passionate sex where 'getting ones brains fucked out' will take on entirely new literal meaning, the drifting remnants of the Literal Bombs float unsuspectingly across the area.
Soon enough, everything from insults to poetic turns of phrases are becoming true, Literally, and this is one 'growing' problem no one is prepared for.
Get ready for one of the most comedic and twisted tales you'll ever read, a Klassic from the Kreme bound to create a few laughs and a few fantasies you never even knew you had.
Wanna Bet?
The Youth of Oak Chapel have just concluded running the regular church service, a big accomplishment for many of them, but particularly inspiring coming from Elisha. Elisha has not only shown the purity inside her with her actions and her beliefs, she has capped off the end of her high school by writing and giving the sermon in the service.
Everyone is proud of her, parents, friends, and of course Elisha is proud of herself. She has grown up in this church and today she is about to grow up more than she ever expected, thanks to a mysterious visitor who greets her after the service.
Eric is visiting Oak Chapel for the very first time, and while Elisha can't put her finger on just what it is, there is something different about him. He seems friendly enough, interested in the architecture, the design of the old church building, but there's more to him than a charming smile and unusually polite demeanor. Whenever he uses the word 'bet' in a sentence, Elisha finds herself reconsidering her thoughts, actions, and soon much much more.
What begins as a simple tour of the church, pretty young Elisha guiding the older man through the empty halls and rooms, telling him about their history, ends in a way no one will see coming, except possibly Eric.
You might think a pure virginal girl like Elisha is perfectly safe from sin inside a family church, but you'd better not bet on it this time.
Little Goody Two Shoes
Ella is a good girl, as in the kind of goody goody girl who spoils everyone else her age's fun. She's the girl who reports when parties are going to be taking place, who ruins everything fun about being young.
Her classmates Calvin and Jason are sick and tired of Ella's goody goody reputation and higher than all attitude. They're ready to take her down a peg or two and to do so, they've decided to hit the local shoe store in the mall to see a man who they've heard rumors about.
This mysterious man supposedly has very unique footwear, shoes guaranteed to more than just change Ella's attitude about being a good girl all the time. After a talk with the man and explaining their problems, he is only too happy to help and before long Ella is picking out new shoes, though for her he has something special in mind.
To really change something so basic as arrogance and attitude in a young lady like Ella, the two shoe approach is necessary. The first pair of shoes simply begins the transformation both inside and out; the second pair of shoes completes it.
Soon enough, Ella is discovering all new ways to be naughty, all new pleasures to getting spanked for that naughtiness, and all new things to be spending her time doing instead of spoiling anyone's fun.
In fact, Ella might just be the center of attention at those same parties and partially drunken gatherings she used to report. It sometimes only takes a girl starting out on a different foot to say goodbye to her life as a Little Goody Two Shoes.
HappyHallow-Kreme
Brianne and Katie are a couple of cute coeds getting dressed and made up for the annual Halloween party on campus, a big event where the girls traditionally dress in their sexiest costumes.
This year Brianne is surprising no one, certainly not Katie, by going as slutty as she can, wearing a frilly pink corseted top and what completes the look not really a costume at all, more an excuse to show off what none of the guys can have in the most blatant way possible.
Katie on the other hand is much more meek and shy, going as a sexy kitty, purely based on the fluffy ears she has on her head. Otherwise her attempt at a sexy costume is nowhere near as extreme. Of course these two always get along and enjoy doing things teasing like this.
When Katie has the perfect idea on how to complete their looks, everything takes a sudden turn for the strange and unusual. It seems televisions have been constantly advertising for a new Halloween makeup product called Hallow-cream. As Katie puts it, according to her cousin's buddy's cousin's brother's friend, this Hallow-cream stuff is pretty intense. Apparently it's not just a paste product and an all natural concoction of chemicals that makes the skin feel alive.
Despite pointing out that skin is alive, Brianne agrees to give the stuff a try if it's so important to Katie. Finding the last box of Hallow-cream in the drugstore nearby, the two girls go back to apply it before hitting the party fashionably late. But as soon as they begin rubbing the cream into their skin, alive is much too mild a description for how their skin feels.
The sensations are intense and as the box says, Hallow-cream is guaranteed to make you happy. The unexpected thing is, they are not just happy, the cream touching and absorbing into their skin is making them downright orgasmic.
Pleasure takes over both girls' minds and soon they can't get enough of it. Heading to the party, Brianne and Katie are sure to be a hit, though their costumes will have nothing to do with it.
Halloween with the Kreme concludes with a twisted tale of costumes, makeup, and mind manipulation, all culminating in a twist ending you won't see coming.
Absolutely No Soliciting
Nicole is a dedicated girl, motivated to support causes that might not bring her much glory but certainly prove that she can make a positive difference in this world. She's young, upbeat, and so far having a very successful October day going door to door and collecting signatures to support some needy children having a fun-filled Halloween.
It's a cause worth her time and worth the efforts and advantages she can provide. Children is always a good cause and for that, Nicole has felt positive all day. Most homes she has visited collecting something as simple as a signature is no problem. Of course all this is before she visits the one angry man's home.
This angry man is not just upset at being disturbed, he seems absolutely raging that she should disturb him. As he points out, there is a clearly marked sign out by the sidewalk which says Absolutely No Soliciting. Despite Nicole attempting to calm his anger, to explain she is only collecting signatures, this man is not having any of it, upset about much more than merely being disturbed.
Very quickly, Nicole realizes this man is no ordinary man, his voice stopping her quite literally as she finds herself frozen there on his porch, helpless to listen as he reveals his true identity and shares that maybe there is a use for an attractive young girl like her this time of year for a man like him.
Of course, his plans will involve Nicole taking on a new cause, a worthy cause. After all 'children' is always a good cause. Nicole will just have to go door to door for his cause and collect something a bit more personal than signatures.
As Nicole goes off altered from her experience with this angry man, she is destined to make many men very happy to be disturbed in their homes, and she is sure to forever remember that sometimes Absolutely No Soliciting means No Soliciting, unless of course she has something worth soliciting.
Halloween with the Kreme continues, throwing support out for good causes.
A Lesson in Manners
Zoey Jacinthe works a job where sometimes the customers can really get to her, though this Halloween she's about to meet a customer who can really change her attitude.
She's always been a girl who worked hard to maintain an image, whether that be the image of good student fighting the constant annoyances of her slutty roommate Dana, or whether it be her personal image, a vibrant healthy young woman. One thing is sure, Zoey never needs the services of the spa she works at.
She's barraged day in and day out with women fighting a desperate battle to look younger, to attract attention, tanning, applying creams, lotions, doing everything possible to look their best. They come in expecting miracles, but on the day Zoey finally loses her cool in front of a potential new customer, the miracles might just be coming for Zoey.
Frustrations fume and anger explodes in a brief moment of rage where Zoey tells it like it is to the rather unattractive and near haggard old woman in black who stops in to see what the spa offers. Even as she is saying what she does, Zoey knows this can only get worse. Oddly enough the woman has a very pleasant response, a much more contained one than she ever would have expected.
No violence, no shouting, only a poke of a finger and some strangely poetic words and the woman walks away. Of course this is only the start to Zoey's workday and immediately she finds herself changing, the spa never having offered body altering enhancements like she soon receives.
One thing is certain. Before this Halloween, Zoey will be experiencing much more of the services the spa can offer, particularly when male customers are involved. She'll find that maybe there's something to rubbing creams and lotions into her skin, though preferably the all natural kinds a man is willing to provide when a curvy girl like her asks nicely.
Halloween with the Kreme 2013 continues with A Lesson in Manners.
Halloween with the Kreme 2013 – Sampler
Are you frightened by consuming too much Kreme? Are you unsure whether you can handle the entire Halloween with the Kreme 2013? Would you like to just have a small taste of what you're missing out on by not rushing in and overindulging on so much fresh Kremey goodness during the most frightening time of the year?
Good news, your persistently perverse Kreme Keeper has concocted a very special sampler pack of treats especially for you indecisive devils this Halloween. In this absolutely free book you will find samplers of all nine books making up this year's Halloween with the Kreme.
There are Klassics and new books, lengthy tales and Kuickies, stories of sinister sensual screams and stories to bring on a lusty laugh. Find demons, werewolves, pirate wenches, witches, warlocks, ghosts, possessing spirits, aliens, curses, costumed chaos, creatures of nightmares turned wet dreams, and much more.
This year everyone will scream for Halloween with the Kreme, and those screams will be in terrifying degrees of pleasure. Check out the sampler for free!
As a special bonus here on the Kreme's site you can click on this link and download a PDF of this sampler right now!
Kandy Korn 2
The thing about Kandy Korn is that every year there is more of it, and so just like the previous Halloween with the Kreme, there's a special bag of treats waiting with three fresh Klassics to Kollect.
In Dawn of the Zombie Sluts, the small mountain town of Romero is about to wake up to a misty fog, though what the innocent families in that town do not suspect is that this fog results directly from a horrible crash by a truck carrying highly dangerous government chemicals.
These chemicals are within the mist, the strange cloud that has enveloped the entire town and one family is about to discover that something is in the fog, something that will change them like never before.
As a government recovery squad moves in to try and take back the town, a growing army of zombies emerges, zombies with much more perverse desires than brains on their cold dead minds.
In For Whom Belle Trolls, the neighborhood kids are terrified of one innocuous looking home, or more specifically the Beast within. As a delivery man discovers when he has a package for the woman who lives there, it is not Belle's Beast he should fear, but the mysterious Belle herself as she takes much more than just his package.
And finally in Propagators of the Planet Pluto, take a lighthearted journey behind the minds from a tiny planetoid that does not appreciate its status coming into question. When Pluto was changed to be called a dwarf planet, the fearsome and vengeful residents of Pluto sent their best ship to teach humanity a lesson.
The Plutonians have brought Propagation Pistols and they are going to make sure Earth understands what being small is all about by sending the populace into such a mating fit that the planet will forever be overcrowded and perversity will rule the land.
Whether you fear mysterious government chemicals, strange weather, zombies, the mysterious unknown behind closed doors in a rather innocent looking neighborhood, or babies by the billions, Kandy Korn 2 is sure to scare in only the most sinister and sinful way.
The Boobeyman
Eighteen is an awkward age to have to up and move, to be planting new roots in an entirely new town and more importantly an entirely new home and neighborhood.
For Alexandra, the brisk October day is nothing all that special, just moving day as her dad lugs heavy furniture and she does her best to take in whatever boxes she can. The only unusual thing that she has noticed is how the neighborhood girls all stand at the edge of the property staring at her, their faces showing concern if not fear.
After introducing herself to them, Alexandra is warned of a danger found within her new home, a danger in a monstrous entity that comes when she is sleeping, a creature known to the girls as The Boobeyman.
The Boobeyman only preys on maturing girls who have reached the age of eighteen and he changes them to suit his own nefarious purposes, feeding off their young boobs, manipulating them into larger and larger perversions of the natural size they are.
According to the girls, their friend used to live in Alexandra's home, their friend who was a sweet girl, until The Boobeyman came and got her. She became a slut with giant tits, a girl unlike her prior self who knew no limits to her own desires and depravity.
These girls warn Alexandra not to fall asleep, that The Boobeyman will come for her, and she will suffer the same fate all do when facing down The Boobeyman.
Finding the story ridiculous at best, Alexandra goes on with her day, the moving and unpacking definitely taking a toll as she finds herself more than ready for a first night's sleep in the new home.
Of course when she sleeps, the dreams begin, dreams she has no doubt were mostly caused by the near frantic loony warnings of those girls. Of course as she wakes up during the night and then again the next morning, Alexandra discovers that as impossible as it may seem, there may be more to the story than she thought.
Will she fall prey to The Boobeyman? What will happen when she finds the pleasure she feels exhausting and falls asleep the next day? Will the men who stop by to pick up the rented moving truck be tipped quite generously by the large chested girl they find waiting for them?
Find out in the newest danger to cross over from the mind of the Kreme into our world, The Boobeyman, part of Halloween with the Kreme 2013.
What Goes Up…
Celleste has always found that the more she learns, the less she knows of a quiet enjoyable existence. The more she crams inside her head, the more dull and uninteresting things sometimes seem. But then, Celleste is content, happy to be where she is, expertly skilled in her field of computer programming.
Having always had a knack for computers, Celleste spends much of her free time studying up at the library, nose buried in books. Whether books on programming or coding, Celleste is sure to be there, reading away, studying, cramming more knowledge into her brain, heightening her levels of intelligence while lowering her unfed lust for life.
One day while at the library, Celleste meets a friendly if rather quirky old man, a man who approaches and asks if she might not mind the company so he can rest his weary body across from her.
Seeing no harm in entertaining some public interaction at the public library, Celleste agrees and soon begins a rather unexpected conversation which seems strangely centered around her own intelligence.
The old man has many unique ways of looking at life, a perspective the modern world has frowned upon. His ideas may be as old as the varnished and gnarled cane he carries, but one of those ideas is about to change everything for young Celleste.
As he puts it, What Goes Up… must in time go down. For every rise there is a fall, and as he puts it, Celleste's craving for knowledge has built up her intelligence so high that when at last it goes down, it may just plummet quite far.
Not buying the convoluted logic, Celleste finds herself somewhat fascinated by the concept, though more accurately fascinated by the way light twinkles off this man's old cane, letting her thoughts quickly distract, fall away, and eventually discovering that maybe, just maybe, what she has studied hard to build up is already falling like a stone.
In the end, parting ways with this mysterious old man, Celleste will embrace a new thirst for cramming her head with something entirely different than knowledge, a craving she just can't get enough of, but perhaps the awkward man reading in the fiction section alone can better assist her.
From computers to cum, Celleste finds that sometimes going down is much more rewarding than going up. In this unique perspective on the journey from brainy to bimbo, watch as Celleste sees the smart side of being truly dumb.
Caligula's Curse
Halloween with the Kreme 2013, continues with a Klassic sure to fit the season. A spooky castle, a legendary curse, and a little passion are sure to combine for some frisky freakish fun on the set of a new movie.
Roman Gaius is a fiercely intense director, hard at work on his latest feature, a period piece taking place and being filmed in a mysterious old castle, one renovated and modified with actual stones from the castle where Caligula reportedly stayed during his most deviant years.
Stories abound on what caused Caligula to fall into such depravity, such lust and lurid activities, and it all started many many years ago when the stones of this castle formed another one off the coast of Italy. Roman is sure that filming in a location like this will bring alive some new attractions for his features, turn around a movie career that hasn't been that great in recent years.
As the actors and crew begin experiencing strange happenings and even more bizarre attractions, the real question is whether Roman Gaius is staging the whole thing to boost his career or whether without knowing it, he has stumbled upon the age old curse of Caligula, a curse which will claim everyone on set both in front of and behind the cameras.
A story based at least partially in the true history of the Roman Empire's most notorious emperor, a man who started out pure and clean and fell to an unknown illness which changed him into a sexual deviant, Caligula's Curse is a new dimension of suspense from the Kreme library, fitting for the season where something spooky can quickly lead to something kinky.
Donnie the Dimwitted Demon
In the underworld there are demons who rise to torturous heights of power and fear, who rain death and chaos down on the weak and enjoy twisted turbulence of mere mortals up on the surface.
Donnie is not one of those demons. Donnie is a simple sort, a kindhearted soul who just happens to be a menacing looking winged demon. He has always preferred humanity to his own kind and so it fits that Donnie the Demon would live among those he enjoys the company of.
Most days in his existence, Donnie must wear a costume, disguising his somewhat frightening appearance to conform with society in a mortal world. One day out of the year though, Donnie is free to show his true self proudly and that day is Halloween.
One year Donnie decides it's time to try his hand at hosting a party and what sort of party would be better than a Halloween Costume party? Yes, Donnie, simple and somewhat easily fooled, invites all his human friends over for a special party. Unknown to him, though, this party will end up being much more special than any Halloween party ever has been.
Back in the underworld he left behind, two of Donnie's old bullies are up to no good and they have a plot to ruin dimwitted Donnie's fun by perverting all the guests into taking on aspects of their costumes, twisted aspects that will be quite sexually explicit.
Does Donnie notice when the changes start erupting sporadically right in his own home? Sure he does, but Donnie is simple and chalks it all up to human party games.
The games will be quite winning to watch as the guests of his party become everything from a bunny eager for a humping, to a blow-up doll, sexy cow, and hooker.
Fear not though… for the start of Halloween with the Kreme 2013 is a double-feature.
One year later, Donnie has decided that after such costumed fun hosting his own party, he wants to break into the business of selling costumes to humans, all sorts of costumes, in his own fun house of a building, decorated and stuffed with only the best costumes he could find.
On opening day, Donnie is sure this will be ten times as fun as simply hosting a party. The costumes he has are special, he just knows it.
What Donnie doesn't know is that his old buddies from hell are back and this time they have placed a special curse on the costumes. Needless to say the customers stopping by will discover that once tried on, the costume becomes who they are, and with the usual explicit twists and perversions.
What will happen to the college couple dressing as Little Red Riding Hood and the Big Bad Wolf? What will happen when a man puts on a superhero outfit? Will the pirate costumed girl discover the joys of being a yo ho ho for anyone who wants her?
Find out as everyone's favorite dimwitted demon takes costume creativity to new extremes.
Above and Beyond
Perhaps you've heard the legend of Mount St. Helen, the biggest name in underground fetish sites online, maybe you haven't. For those new to the name, meet Helen Viller, a somewhat nerdy though attractive twenty five year old girl with a head for science and a passion for the outdoors.
This is Helen's story, of how she joined the South Florida Agricultural Research Organization one particularly hot summer. She had never felt hot herself outside of the temperature of perspiration baking on her skin, but this summer Helen would find herself enjoying a job in the great outdoors, working the fields where new growth chemical fertilizers were tested, chemicals that would ensure new growth in plants of all types.
This would be the summer that her job and her personal self-image would collide and a nerdy science fiction fan by the name of Helen Viller would accidentally find herself going Above and Beyond her daily job.
While the higher ups work their days in laboratory greenhouses, cooped up and mixing the blends for the next big breakthrough in science-assisted farming, Helen spent her days out in the fields, operating the sections of plants receiving either a control blend of basic water or an experimental batch of growth fluids. The plants were thriving for the most part, some more than others, and by and large it was a repetitive job, not so complicated as to keep Helen's mind from wandering now and then.
Perhaps that wandering mind was what caused Helen to make a fatal mistake one day. While initiating the watering of a grove of maple trees, she found herself caught up watching the sap drip from a nearby tree and completely overlooked setting a timer for the watering.
The telescoping rods to water the plants extended and Helen made her futile attempt to clear the area, instead getting soaked in Batch 31A, a new growth mixture assured to be safe for plants and animals.
The problem is, this growth chemical mixture wasn't simply safe for plants and animals; it worked on them both equally as well.
What followed was the biggest thing to ever come out of the South Florida Agricultural Research Organization and the biggest dream come true for men all over. This is the tale of what happens when a nerdy girl of science gets her every fantasy doused with hot growth-inducing passion.
This is the tale of Mount St. Helen, a girl whose job became a lifestyle all its own when she went Above and Beyond.
X all that Apply
Fawn was always the good girl, the responsible student, the wholesome sweet girl who never harmed a fly. She was, that is, until putting up with four bitchy cheerleaders who think they rule the school. For going on four years, Tina, Dawn, Jenny, and Lauren have been every guy's unsatisfied fantasy and every girl's nightmare. They are the spirit squad and there is no one they care more for than themselves.
After tormenting Fawn continuously to the point of utter humiliation when they found out she wore a back brace on occasions, Fawn has finally had enough. She's getting back at them once and for all, even if it sends her off the sane path and to a strange store called Curses R Us.
At Curses R Us, anyone can purchase a curse, or even join their Frequent Curser's program. Fawn only wants one special curse to show those bitches for who they really are. She's going to make sure the slutty cheerleaders become what they secretly fear most and she's going to enjoy it.
After second thoughts, Fawn realizes there is no mercy to be shown to girls like these and soon the curse is applied. Now it is simply time to wait and see how it takes effect. As Tina, Dawn, Jenny, and Lauren practice their routines, thoughts begin working their way into their minds, impulses losing control, and when a man from the school board sits them down in a classroom simply to fill out some standard required forms, the girls each find themselves placing X's in boxes for questions they absolutely never would agree to about themselves.
Needless to say the girls are becoming what they always hated and soon these four will be spreading much more cheer as the spirit of true sluts takes hold of them and Fawn gets her revenge.
Find it on Smashwords now!
The Kuickies #4 – Flash Photography
Todd is super excited. He's got his brand new camera, well brand new to him at least, and he's hitting the town for some candid photos. You see, Todd grew up watching his father the photographer and how he always used to expertly maneuver the old film cameras back in the day. He admired the man and learned a lot, most notably to appreciate the control one has when handling an old camera.
New cameras really take all the control out of someone's hands, but an old camera has adjustments, settings, everything one can imagine that finely tunes an image to perfect clarity. Todd is a young man outside his generation and the camera he has is far older than even most his father used to use. Still, it came from an antique shop down the road near where he grew up and as that shop has closed, some of its antiquities live on with Todd now.
He prefers candid shots with people in them, and so Todd begins his photographic journey in the park, having to leave the park quickly due to an unforeseen music festival starting up. Still, it's no problem, he'll find candid shots elsewhere.
Only one bit of trouble can stop his perfect day of breaking in the old camera, and that is the trouble of figuring out just why he can't seem to turn the flash off. If anything ruins a good candid shot it's a bright blinding flash and no matter what Todd does, the flash seems determined to go off.
Perhaps he should have listened to the old man selling off the stock in his antiquities store. Maybe there was more to what he said about the internal parts of this camera being corrupted.
One thing is for sure, this camera is capturing more than just startled strangers locked in a moment in time. It's capturing the final moments those individuals will remember before something inside them becomes corrupted as well. And yet Todd continues on, ever in search of the perfect shot, never aware of just how much control he truly wields.
Paranormal Exit
Less than a year ago, several women vanished from the menacing old DeLiniac Tower office building, located in the sparse wooded mountains of a small town. Always shrouded in fog and frequented by commonly severe thunderstorms, DeLiniac tower has earned a reputation as a place to avoid.
The women working Data Entry vanished without a trace though rumors surround the circumstances of their time in the old office tower. Supposedly the building has been plagued by spirits, paranormal activity, and the unexplained. In some people's minds the girls were abducted by some construction men who also went missing around the same time. According to others an evil deep within the very walls and structure of this old building took them, as it will take any who enter this possessed tower.
Now it's Joyce and Joey's turn to take a trip through DeLiniac Tower, and as part of their job as state inspectors, they are visiting to make notes of the condition of the building, to determine whether the half completed renovations are worth resuming or whether DeLiniac should be destroyed.
Joyce and Joey are women with very different ways of doing their jobs. Where Joyce has always approached things from a professional sense, playing down her femininity and very much playing down her large chest, Joey has preferred to skim by on her looks, to primp and preen and generally be the flirt of her profession.
Entering DeLiniac Tower, the two will separate and find that different floors of this structure can provide them with very different… though similarly pleasurable experiences.
Some buildings refuse to die, and others offer entrance but no exit. The only way out for Joyce and Joey is a Paranormal Exit.
From the creator of the original Paranormal Entry comes the unexpected Kustom Kreme sequel, Paranormal Exit.
Busted
Samantha Jeffries has always been a girl that could turn heads. Always a lovely sweet girl who blossomed into beauty and always the responsible girl when it came to her actions. Even responsible sweet girls make mistakes now and then, and sometimes they get busted for the mistakes they make.
Some might say that Samantha got busted sneaking out of her home one night at the age of eighteen, that she was caught sneaking out to go with her boyfriend to an old abandoned drive-in where many other kids their age were gathering to watch a meteor shower.
The funny thing is Samantha didn't get caught or busted like you might assume. No, Samantha got her clothing caught on some of the beakers and chemicals her father used in his basement lab. Simply trying to climb out the window, Samantha was doused with unknown chemicals and that is where her being busted truly happened.
She was sure something was wrong, even on the drive out to the drive-in. The chemicals had soaked right in, her shirt dried in moments, the unknown now absorbed into her young flesh. Something started during the ride out to the drive-in but it didn't end until the night was over.
Samantha found the impossible happening, her flesh swelling, growing, becoming much more than merely head turning. She found herself looking downright irresistible and worse still, she felt less and less like resisting anything.
She and her boyfriend made it to the drive-in but no one there was interested in meteor showers anymore. There were other more enjoyable showers for Samantha as she brought new extremes to the phrase 'sneaking out to fool around'.
Samantha Jeffries never suspected what an innocent night sneaking out would bring, she never suspected that her father's lab might ultimately have her on her knees in so much pleasure, and she never could have dreamed what fun it might be to get Busted for some very naughty behavior.
Big Top Taffy
Taffy Sweetwater always loved the circus, a passion that remained with her throughout childhood and into her college years. Something about the atmosphere, the people, the acts, and that certain indefinable magic coursed through her veins and never faded.
When the opportunity arises for Taffy to take on a summer internship working and living in a circus traveling around the state, she might just discover that the magic hidden within a circus is hidden for a reason.
Taffy tells the tale of how her life changed one summer, how all her plans for a future altered when her curiosity of the circus grew out of control, quite literally. The circus seemed like any other, a colorful magical looking fun and family friendly place.
The strong man was impressive, if a slight bit sad looking. The clowns were colorful and numerous, if oddly all male and a bit perverse in their attention. The ringmaster was unsettling at least in his lingering stares while telling Taffy she was everything the circus needed. Still, the opportunity rarely came to live a childhood dream.
Of course when warned never to go into the forbidden tents of the so-called side show performers, Taffy's curiosity becomes her weakness and she might just find herself becoming part of the act in a very much adult after-hours show.
Taffy Sweetwater always loved the circus, and it seems the circus is going to love her for a very long time as well. Of course what draws everyone to Taffy might be the desire to see what's under her own Big Top, an attraction that only grows each night.
A Walk in Pheromone Park
Joanne Lee is a survivor, though what she has survived and moved past is something most can't imagine. She was once a simple bank manager, conceited sure, a bit full of herself and judgmental yes, but a bank manager who got things done at a young age.
Then came the day a mysterious man chose to step into her bank, a man who changed everything about her life in the blink of an eye. Joanne became the friendliest bank manager in town, to an extent that she did things no moral girl could ever excuse.
Joanne escaped that life, shook off the confusion clouding her thoughts and is now setting things back on track. A new city awaits her, a new job is being interviewed for, and positive things, respectable and moral things are in her future.
The depraved past is behind her, or is it? Joanne Lee may have escaped the lurid acts she willingly committed and the perverse pleasures she may have enjoyed, but something strange is happening on the simple walk through the park back to her car.
This is a big park, a dark and mysterious, but hopefully relaxing place to walk. Very soon it becomes apparent that a force is at work in this park. Everywhere Joanne walks, people are giving in to base desires and impossible impulses. The memories of the past are coming back but this time they are happening to everyone around her.
What is causing people to fall into sweaty, perverse, and sometimes even milky messes as they do what even the animals in the park keep private? Is someone following her? Has Joanne truly escaped her past and will she escape this park without the air closing in tight around her?
It's all up in the air as to what happens and the air around Joanne is thick with pheromones. A walk in the park takes on new extremes as this Kustom tale features familiar characters and shows that escaping the influence of the Kreme can prove devilishly deceptive.
Koupon Klipped
Abby is all about her career, starting out as an intern in financial planning, which anyone can tell you is her specialty. She's only just recently graduated college where everyone who knew Abby could recite verbatim the story of the time Abby saved 90% on a $200 grocery bill. How did she do this? Coupons of course. Abby is an avid proponent of finding every coupon you can and using them to cut bills much more than just in half.
As a financial planner Abby is already sure she'll help pass her expertise and knowledge on to others, but she's still all about discovering new ways to save. When an opportunity to attend a company retreat at her office the upcoming weekend falls in her lap, Abby goes on a search for the next big thing, the way to save that she can pass on to the big guys in charge.
That's how she discovers a site online called Kreme's Koupons. By signing up to Kreme's Koupons, all her online shopping will be made that much easier. Every time she browses online looking for something to purchase, the Kreme's Koupon add-on will pop up a promotional Koupon for savings on that item or type of purchase. All she has to do is click the Koupon and see if it's worth the buy.
Signing up for Kreme's Koupons is free, and many of the Koupons come with bargain bonuses, bonuses too good to pass up as Abby sees it. Maybe the places these Koupons lead her are stores and businesses she ordinarily wouldn't visit or have much interest in but Abby always puts savings first.
Shopping for new clothes, Abby finds that Koupons can help fill out her wardrobe, even if it changes how she typically dresses. Her new style begins to expose more creamy white skin and that skin looks more and more plain. Fortunately there are Koupons for other things, like tattoos and piercings, the perfect way to decorate on a budget. The Koupons become more and more a part of her every waking thought, the thrill of saving truly becoming pleasurable. As the weekend nears, Abby is finding out just what the power of savings can be and what it truly means to be cheap.
One thing is certain, Abby will make a very big bang at the company retreat, and it's one bang every man there will take note of… besides taking part in. Abby might just end up more Klipped than the Koupons but everyone likes a girl who knows the value of a dollar and how to cheapen herself to their enjoyment.
Student Announcements
Alan is not the guy everyone wants to have around; he's not the popular kid in school, the buff athlete or comedic ladies man. At eighteen, Alan has endured three years of torment, of being misunderstood like so many creative kids his age. The one behind that torment is Zeke, a brutish thug in training with an ever-present gang of followers.
What changes the course of fate for Alan comes not in his own motives of revenge against Zeke and the popular crowd, though that certainly helps play a part. No, the real purpose behind Alan's meticulously planned actions has a more meaningful drive. She's gorgeous, blonde, and genuinely the sweetest girl to ever transfer in to Alan's high school and unfortunately Zeke is quick to work his way in close. His only goals are to treat Celia like a piece of meat, but Alan has a plan.
Senior year, Alan has been in the AV club all throughout high school, and this year everything changes. This year Alan will be making the morning announcements every day, and using the equipment in the AV room combined with his own meticulously planned and prerecorded programming, Alan has a surprise for those students his programming targets.
Having studied something called targeted subliminals, a radical idea that may possibly help rehabilitate violent criminals one day, Alan plans to bring justice to the crimes cruel teenagers have brought in his school.
From the meathead jocks that follow Zeke's lead to the brainless and thoughtless cheerleaders that tease every guy in school, Alan's morning announcements will have the student body much looser and open for fun, culminating in a showdown with Zeke that means Celia might be saved the fate of ending up a notch in his bedpost.
Student Announcements is the coming of age Klassic from Kris P. Kreme, emphasis on the coming.
Green-eyed Protection
Southern California has a new gang taking over the streets, and that gang is led by Jake Tanaka. But then this isn't a story about Jake Tanaka; it's about the one really running his gang, Sato Iwamoto, Japanese goddess and fiery bitch who is keeping everyone in line on orders from her father overseas.
The Yakuza are respected and feared in Japan, and Sato is bringing that respect and fear to America, taking street gangs from street to style with their actions and obedience. Everything is going perfectly and despite being the main squeeze of Jake Tanaka, someone she tolerates more than cares for, and mostly because he has the access to manpower to keep the gang growing.
Like any gang, Sato's offers protection to certain locations, especially locations bringing in drugs and other powerful supplements for acquiring power in new regions. When a mystery man is recorded on cameras influencing his way into the cash of a register at one of their protected drugstores, Sato and Jake are on the way with a number of their men, serving the protection and intending nothing more than teaching this mystery man whose turf he is messing with.
One look into the man's striking green eyes changes everything and from a mere glance, the mystery man can tell who needs to be taken down a few pegs.
No stranger to situations such as this, everyone's favorite man with the glowing eyes is serving up some justice to the up and coming gangs Sato is empowering. His special blend of perverse justice will certainly have the gang members up, and definitely cumming, with a little help from Sato, the young Japanese goddess who's never seen just how true the term gangbanging can be.
In the end Sato might be Jake's main squeeze, but everyone enjoys a few healthy squeezes of her ripe young body and as for protection, well, Sato's certainly not concerned about it as she does a whole lot more than just inspire her needy gang.
One of two brand new Kustom tales featuring the man with those special eyes; keep your eyes peeled for the other later this month.
If It Pleases The Court
Helen Hill is a sharp young attorney, a woman in a man's world who has always taken a somewhat theatrical approach to ruthlessly winning her cases. There is no length too far for Helen to go to in order to win, to hurdle she can't leap and nothing too big for her to use to sway a jury or a judge.
For her current case, she has gone much further than most would ever suspect, and had a minor surgical procedure that will result in major benefits not just for the case but for many cases down the road.
Helen is the proud new recipient of Pump-ems, the latest and greatest in adjustable female enhancement. With Pump-ems, Helen Hill can have breasts whatever size she deems necessary to distract an opposing attorney, to prove her case, or simply to win favor with a judge.
Operated by remote, she can enhance herself as easy as changing channels on TV, but there's only one little thing Helen never counted on. The changes have a striking effect on her arousal, turning her on to extremes that may just cause more distraction for herself than anyone else in the courtroom.
For the sexual harassment case she has against Mitchell Mathers, owner of Melons Restaurant, Helen Hill is all set to adjust accordingly throughout the day, to have the defendant so tongue tied and distracted his leering lecherous ways will be perfectly clear to the judge.
Everything works as planned until Helen finds that she's slowly becoming more and more focused on the sex in her harassment case than the final verdict. Her brilliant legal mind is diminishing as rapidly as the cup sizes are swelling in her expensive suit and when the judge calls both her and the defendant to his chambers, Helen Hill might just find that there are better things than simply having a man's eyes on her assets in the courtroom.
Readers Choice Month ends despite objection, but fortunately this is one stimulating day in court.
Lip Service
Good girl Kayla is about to get in touch with her dark side and when one says dark, one means practically gothic.
Kayla is a church girl and not just any church girl, but one who spends as much free time as she can helping Reverend Herb out with stuff around the church. Of course trust her luck to leave her alone at the mall when Reverend Herb gets an emergency call to head over to the hospital.
Having been gathering books for the children's library, now Kayla has been left alone, to be picked up later by the good reverend. While a mall might seem like heaven to most eighteen year olds, Kayla is a different sort of girl with different priorities.
She isn't comfortable in the crowds but most of all wearing what she wore, old clothes for some work at the church, clothes that she feels pinch and make her a bit too exposed to the many leering eyes of mall patrons. Heading into a store to browse some clothing, Kayla quickly gets sucked in by the sales pitch and is soon allowing a girl to apply some sample lipstick to her. The bold dark burgundy is much too strong for Kayla's tastes but for some reason she finds herself opening up, thinking differently about the look it gives her.
In no time, Kayla has purchased a new wardrobe, leaving her old clothes behind and heading off into the mall with her thoughts slowly diminishing down to one thing, embracing this new lifestyle.
From language to posture, everything changes for Kayla, and old friends and the good reverend will find that some good church girls can pay much more than just lip service to being truly naughty.
Readers choice month approaches the end but still manages to offer new dark twists, this time with a gothic flair.
Clowning Around
Belinda and her college roommate Felicia are in her home town for the summer, looking for something fun to do. While ordinarily she wouldn't care about his suggestions, Belinda takes her eighteen year old brother's tip that they could hit the local carnival, a regular event in these parts, though one that isn't for those who are frightened by the strange and unusual.
The carnival is not one of those places where families usually venture after dark, filled with the freakish and adult themed acts which leave it quite the underground reputation. Worse still, at least for Felicia, this carnival has clowns.
Felicia like many has always had a fear of clowns but as Belinda warns, she shouldn't merely fear the clowns as pretty much all guys at this carnival are creepy in their own way. Brent tries to reassure while his sister simply dismisses him and takes on her own plan of dressing as revealing as possible and teasing the men at the carnival mercilessly.
The night goes fine for the girls, though Brent is left wanting nothing more than to leave thanks to his sister's humiliation of him. When they finally decide to call it a night, that's when the humiliation takes a turn and they bump into a large brutish clown with a far too grinning face.
Tipsy from the generously offered alcohol at the carnival, none of them see the real threat this clown possesses until it is too late. Unafraid of arrogant Belinda, the clown wins over Brent and offers him a trade like he's never imagined. Give his sister to the clown and the clown will make sure Felicia is all his to enjoy.
Inebriated or not, Brent does what a guy pushed too far will do and soon it isn't his drunken state causing hallucinations as the clown performs some very twisted tricks, using the girls and their nubile coed bodies as props in his act.
Readers Choice Month takes readers to the dark side of a carnival, where it's all fun and games until someone loses their brain cells, where not only the balloons are getting blown, and where ultimately it's all just a matter of Clowning Around.
Drained
Kira Carson is used to rough weekends but this weekend is going to leave her positively drained. Her husband has gone off with the other neighborhood men, leaving the mom's like her alone to keep the unruly kids in line. Many of those kids are at the ages where they should be too old to still be considered kids but being boys they still have a talent for trouble and unknown to her, Kira is the target of their attention.
She's always been the hot mom, the one who could pass for their older sister, the milf that many of them would give anything to see more of. Kira never suspects just how far these boys will take their ogling obsession with her as she prepares to leave for the grocery store down the street.
Pete, her son, begs her not to go out wearing what she is, being embarrassed enough at how the other guys in the neighborhood look her way. Kira isn't concerned though and shrugs off her son's pleas as she heads to the store. Once at the store though, many things besides shopping will enter her mind.
Maybe it's when her hair seems to be longer than she remembered letting it get, or perhaps it is when she suddenly finds that hair much redder than before, but soon Kira begins having many thoughts that she has never had before.
The rip of her skirt and the widening of her hips tear apart more than fabric as Kira gives in to the overwhelming urges she has been building up, each needy urge accompanying some strange physical change she now is hyper aware of.
Before this weekend is over, the neighborhood boys will be more than taken care of and Kira will be taking all of them on by herself. She won't be the only one left drained from their depraved time together.
Readers Choice Month responds with more twisted purchases where body improvements are the results and aspects of the mind are the price paid, even if someone else is purchasing using one young mother's mind as the credit. Brains will be Drained.
Grope Therapy
Max Colby has a serious problem which unfortunately has ties to both his work and home life. As the principal of the local high school and the stepfather to a trouble making eighteen year old girl named Melanie, Max is faced with a unique challenge.
He's let her get away with too much and of course the behavior would finally push too far to be ignored when her mother was out of town for a couple of weeks. He fortunately has what he hopes is the solution, a highly recommended student therapy officer for the board of education, who his school guidance counselor has called in.
Doctor Linus is supposedly an expert at getting to the root of a student's problems and changing their behavior for the better. He approaches cases individually and unknown to Max Colby, Doctor Linus has planned a little grope therapy for Melanie.
It's always important to feel a problem out but Doctor Linus gives new meaning to that phrase and soon even Max will be seeing all new sides to his unruly stepdaughter Melanie.
The magic behind the Eight ball
Joseph was once an ordinary guy, though now he finds himself locked away, though he hasn't been locked away for his own safety and the truth is, he chose to be where he is just to avoid being barraged by all the women who can't get enough of him.
It all started with a tropical vacation where Joseph found the most unexpected of items to purchase in an old store. The store was filled with items that looked ordinary enough, toys and knick knacks found in any store back home. These items though were very old, and the one his eye was drawn to was a simple magic eight ball.
What could it hurt, Joseph had thought, to buy it and hope that maybe the fact it was new and yet decades old looking would somehow make it more valuable? As the shopkeeper warned though, this magic eight ball was different and the power of asking it simple yes no questions was far more influential than Joseph ever could have dreamed.
The eight ball had true magic, the power to not just answer the questions in a typical manner but to make sure the answer it gave became true about whoever the question had been asked about.
The fun for Joseph begins on a bus ride downtown, when an unbelievably attractive redhead catches his eye. Her father is a overprotective ass who pushes Joseph to actually trying the eight ball out.
He asks one question, then another, and amazingly each answer that appears seems to become the truth, evident by this cute redhead's actions. The power quickly goes to Joseph's head and before this trip is over, that cute redhead will be the entertainment for the entire bus, all simply thanks to the magic behind the eight ball.
Of course when in possession of such an item as a real magic eight ball, one should always keep it close at hand. Readers asked for a little more twisted magic and the twists don't get much more magic than an eight ball.
The Waitress Game
Miley is eighteen, getting close to graduation, and working a heavy on her feet job as a waitress at a popular restaurant. She's putting every cent she earns away, saving to get herself through college and so tips are very important.
A friendly customer who asks for five minutes of her time has some very helpful tips that might just ensure Miley becomes the most popular waitress in town. Trevor is a man who has seen how helpful and friendly Miley is, who has some advice on how she can earn even bigger tips.
After sitting down with Trevor and talking it over, Miley finds herself surprised at just how much sense what he says makes. She would earn bigger tips if she unbuttoned her top more, and she certainly would be better tipped if she were one of those bubbly little bimbo waitresses some restaurants have.
Of course how could a smart girl like her become a bimbo?
Fortunately for Miley, Trevor has some thoughts about that and before her shift is over she might be earning not only some very fat tips but taking some very fat tips of a certain part of her male customers deep inside her.
The conversation continues with Trevor making one girl's wish to be a very good waitress an extremely satisfying meal.
The Waiting Game
Kelli is in the waiting room of a highly skilled and apparently highly popular cosmetic surgeon. Of course she isn't there for any enhancements, only to have a small mole on the back of her neck checked out.
She's a very responsible young school teacher, often mistaken for one of her students by fellow staff at the high school where she teaches. Kelli's just a normal young woman, until Trevor sits next to her in the waiting room.
Trevor is a friendly man, and a very conversational one, starting right in on various topics to pass the time as they each wait in the crowded room to see the doctor. As the two of them talk, Kelli finds the topics steadily becoming more and more directed at her, and more importantly at her body.
She doesn't mind at all, and surprisingly finds talking to Trevor to be unusually easy. Maybe he has some different ideas but those ideas might just be what she was looking for. Ways to better make sure she isn't mistaken for some juvenile again, ways to motivate her students to get better grades, and even ways of keeping her fellow teachers stimulated throughout the day; Trevor has many ideas.
By the time Kelli's name is called, will she still be simply wanting a mole looked at or will things be getting much more top heavy and extreme for the friendly young teacher?
Find out as Readers Choice Month goes Konversational with an all dialogue story where many things change, and everyone loves embracing those changes.
Petting YOO
Years ago, a teenager named Kevin received a mysterious gift from a troublesome uncle in Japan. The gift was a SINtendo Whee, the most advanced interactive gaming system on the planet and one that was purely intended for adults.
Kevin brought all kinds of chaos to his family and community with the SINtendo Whee but over time he matured and grew up. Now it's time for the tides to turn as Kevin returns to an all new SINtendo story.
Kevin is all set to get married to the perfect girl, a girl he's lucky to have in his life and one that has out-shined any fantasy from his past. Amber is perfect, blonde, leggy, just curvy enough to be thoroughly tempting. She's a girl who adores Kevin and who teases him just the right amount with what their wedding night will bring.
They've moved into a rental home together, already begun their lives together waiting for the big event in just a matter of months. As future husband and wife, Kevin has always been dedicated to doing whatever Amber wants and this weekend she wants a visit to a local petting zoo.
Amber has dressed up sinfully to tease and taunt her man while at the petting zoo but as soon as they throw open the door and see the endlessly pouring rain and rising storm, the plans are crushed and Amber finds herself bored with nothing to do around the house.
As Kevin spends his time in the garage working on the lawnmower, Amber happens to spot a package outside the front door and when she brings it inside, curiosity and boredom lead her to opening Kevin's mail.
It seems that Kevin's troublesome uncle has heard about the upcoming wedding and has seen fit to send the latest and greatest in gaming from Japan, an Elite SINtendo Whee YOO.
Imagine Amber's surprise when one of the many games included is called Petting YOO, a game where YOO get to experience the animal fun of a Petting zoo.
Boredom and temptation take their toll and while Kevin works unsuspectingly in the garage, Amber hooks up the game system and puts in Petting YOO to play. As soon as the loading screen is over, Amber's reality begins dissolving quickly.
With a surprise visitor stopping by and Amber losing more and more of herself every passing minute, Kevin might just return from his work in the garage to find that the perfect girl has been altered by an old familiar name, SINtendo.
With a game like Petting YOO and a system like SINtendo, you know there's going to be much more than merely heavy petting going on.
Fun Bags
Jennifer and Karen are best friends and roommates, coeds off together on a vacation to Tokyo. The culture is a shock to the system but their spirits are high due to the insanely funny English translations on so many of the products. As much fun as they could be having elsewhere, a random trip to a convenience store is keeping them far too entertained, simply cracking smiles at all the horribly wrong sounding product names and instructions.
Perhaps the most fun comes for the pair of girls when one of them finds a colorful vending machine in a back corner of the store. This vending machine is similar to the claw machines back home, though the items inside are not toys or stuffed animals. This is the vending machine offering Fun Bags, easily the craziest English translation name of any product they have seen, bringing to mind something much more perverse than the small candies found in brightly colored bags.
Karen has the thought that the two of them should get some Fun Bags, and as soon as they each have retrieved their colorful bag of candy and begun digging in, the two coeds are in for much more than they ever expected.
Japan has some crazy products, some kinky fetishes, but when Jennifer and Karen get a taste for fun, every man in Tokyo will be eagerly enjoying their fat American Fun Bags, as the girls discover just how crazy and kinky their random trip to a convenience store can be.
Cruise Control
I never went on the cruise expecting to meet the girl I would spend the rest of my life with. Of course Cassandra never expected to meet me. One thing was sure, neither of us ever expected what would happen when a less than honorable stage hypnotist performing on board used sweet, shy Cassandra in his act one night.
I knew from the moment I saw her that Cassandra was not your everyday girl, a shy and yet gorgeous young woman who avoided eye contact and maintained a distance from every other soul. She was on the cruise with family, hoping just to survive and get by with as little embarrassment as possible.
Her family wasn't helping, nor were the thousands of others on board, and when I witnessed the perverse antics of the great Hypno-Seas in his act that night, I knew that Cassandra needed someone to stand for her, to fight for her honor, and to protect her from the consequences of his hypnotic suggestions.
You won't believe what he had Cassandra, or more correctly the newly released Cassy doing all over the ship and with who, but you'll be happy to know that in the end everything turned out well. We never aimed to find each other on that cruise but in the end, we weren't the ones writing our own happy ending.
Readers Choice Month goes romantic with just the right mixture of mush and Kreme to keep readers satisfied. Get control of your romance with Cruise Control.
Through the Looking Glass
Alice is a quiet woman and always has been a shy person. Growing up, she was the girl who while just as beautiful or more so than any other girl, she never liked the limelight. She preferred and still does a nice peaceful quiet in her life.
She spends her days inside, only venturing out when necessary or to read a book in the solitude of her backyard. The day her neighbors have a yard sale changes everything. Alice always was curious, always one to enjoy pursuing a mystery, and the mystery of what is drawing the crowds next door is too much to resist.
As it turns out, the Winters are selling off a lot of old junk, mostly items Mr. Winter collected many years ago overseas. Much of this junk has sat in storage for much too long but amidst the piles, Alice discovers one item she actually can't seem to look away from.
A mysterious old mirror, clearly having seen much better days, draws her to it and as she discovers once in the quiet solitude of her home, it might be drawing her to it for some unseen purpose. The mirror is a reflection of herself, the opposite in all respects, and as she feels herself losing time and staring into its strange surface, Alice finds herself enjoying what she sees.
Perhaps the opposite is not such a bad thing, maybe this mirror Alice is worth watching. Alice's imagination runs away with her, but what happens when she discovers that her imagination may not be what's taking her away?
Readers Choice Month tells the curious tale of curiosity corrupted and shyness subdued as Alice is taken for quite the unexpected ride in Through the Looking Glass.
You've passed your Expiration Date
Natalie was always the hottest girl Brian knew growing up, and then came the fateful day their parents decided to get married just when they were approaching adulthood. As classmates and seemingly destined for more, everything was great but after being technically forced into step-sibling coexistence, Brian became a twerp in Natalie's eyes and she became an annoying arrogant princess.
One afternoon though, Natalie returns home in a mood to chat with her friends, not wanting to deal with her twerpy step-sibling. The frustration for her is that her laptop was taken away for some recent acting out in class at school and the only computer is currently being monopolized by Brian.
It's her demanding tone and impatience that brings up a unique topic from Brian, merely something he has read that he feels she needs to know about. Apparently, Natalie has passed the expiration date on her self-control.
What's worse, she has also passed a number of other expiration dates. As Natalie refuses to believe he's doing anything but making stuff up, Brian tells her about the latest discoveries of the human mind and how everything from self control to virginity and public decency can expire when overused or maintained.
Needless to say, the conversation is an eye opener for Natalie and before she knows it she'll find much better uses of her time than the computer and Brian will no longer be just some twerp under the same roof.
Serving Patriotically
As the Principal of Independence High School, Ken Mitchell is very surprised to greet two men in military uniforms outside the school one day. He's further surprised to find that apparently they are traveling from school to school offering a special test for students that will help survey information on how they could best serve their country.
With the phones and other communications cut and hardly any staff in the building, Ken is embarrassed and of course invites the men to come inside. Unfortunately only seven students are available for testing, some of the more advanced seniors working together as part of an achievement workshop.
The men present the students and even offer Ken Mitchell the opportunity to take the Strategic Military Utilization Test, a simple yes no pamphlet where there are no wrong answers.
Leaving the students and their Principal alone to work through the questions, the men wait outside but is there more to their motives than just patriotic service? Is there a reason the test questions seem to change with every blink of the eye or is it simply the small typed print? And ultimately will any of these best and brightest of Independence High make it through the test without losing themselves to the overwhelming chaos building up inside them?
Find out as Readers Choice Month celebrates Independence with S.M.U.T. and takes the chaos to the classroom.
Trading Up: New and Used
Everyone knows Kim, the friendly mom who runs the local used gaming store. She's very into gaming, and unlike many such stores she always offers the best trades on used games and gaming devices.
When a few newcomers enter the store near closing hour, it's nothing strange as Kim is always there to welcome new customers. These three boys have something special though, and it's not just the rare old gaming system and games they have brought in to trade.
No, something is different about these three, an unsettling linger to their gaze, a darkness to their eyes with just the faintest glow somewhere deep in that darkness. The boys are there for a trade, but what they want to trade for isn't found on a shelf or in a case.
Before Kim knows it, she'll find that with a policy like 'everything in the store is available for trades' she better be prepared to get a little used now and then.
Get the Readers Choice Month started with some very friendly trades, where customer service is no game.
Just Passing
Often those who wield the most manipulative power over others stop to take advantage, to enjoy the show, to push the boundaries one step further. Many times their motives are clear and their goals are well established. Occasionally though the purpose for the chaos is not known nor understood and the ones wielding the power are Just Passing.
Together for the first time, experience the tantalizing terror, or is that titillation, that happens when people's behaviors, goals, and lives are altered merely by being present when a powerful mystery woman named Stephanie passes by.
If anyone could see Stephanie, they'd all agree she's stunning. As it is, her beauty remains unseen by all she passes, but everyone is still stunned in their own unique ways.
Just Passing By finds a normal sunny day transformed as Stephanie takes a walk, her mysterious shadow crossing paths with many random strangers. The couple making out on a park bench decide making out is nowhere near enough. The girls watching the TVs in a store window decide to take a friendly debate to extreme measures with random men in the nearby alley. A woman playing guitar on the street corner finds that sometimes there are easier performances a girl can do for extra cash. Further along, an arguing couple discovers just how heated they can get in all new manners.
Of course Stephanie's casual but steady journey is far from over.
Just Passing Through finds patrons escaping the hot summer heat in a mall and that mall is about to experience an unseen visitor like never before. This visitor isn't there to shop the stores or even browse the sales; no Stephanie is once again just passing and this time she's bringing new chaos wherever her ever-present shadow manages to reach.
Some girls taunting the pudgy mall security guy decide to offer him something much more enjoyable. A teenager discovers that maybe being dragged around the mall by his mother isn't all that bad. Of course the main draw this day is a local beauty pageant taking place in the center of the mall and that pageant is about to get quite a lot more enjoyable.
And Stephanie's journey continues.
Just Passing Through Town finds a small town taken to big extremes when a mysterious visitor passes through in a fancy red sports car. Neither is seen of course, but the breeze from that speeding roadster is felt and to those in its path, life is about to get much more interesting.
On the edge of town, a soccer mom waiting for her son finds that there are many more fun activities they can both enjoy on the weekend. Down the road at a Family Planning Center, two workers find themselves compelled to thoroughly test more than just the products they offer. As church is letting out elsewhere in town, two faithful girls decide to try a little naughtiness on for size, and near the outskirts of town a car dealership is about to find all new methods of finalizing a sale.
The journey never ends and Stephanie remains out there, never stopping, never slowing, always continuing and leaving a wake of manipulation mania in her path. Next time, she may be Just Passing you.
The Kuickies #3 – Fantasy Fashions: Selective Shopping
Stephanie is like most women and enjoys shopping. What she doesn't enjoy is getting taken by surprise when someone chooses to spray perfume in her face. Entering the unique new store Fantasy Fashions, Stephanie is already upset.
Besides being bothered by the unwanted spritzing of perfume in the face, Stephanie is most surprised to discover who just sprayed it. The woman was someone she witnessed protesting outside this very store only days before, a woman who then looked different than she does now, more substance to her, more behind the blank look in the eyes.
Soon the unwanted entrance event is behind Stephanie and shopping is her goal, with the helpful assistance of a salesman who seems to be hiding something. What he's hiding is quickly revealed as Stephanie discovers the rather intense techniques used by Fantasy Fashions to satisfy their customers.
Leaving the store in a daze with some unique fashions, Stephanie finds the fashions at Fantasy Fashions unleash much more than fantasies and quickly become her every desire. Heading back to the store for more, will Stephanie get everything she wished for or will the Fantasies become too extreme for the Fashions and leave her more machine than human?
Koed Kursed: Bigger Boobs, Bigger Brains
Everyone remembers Emmy Shaw, the perfect girl on campus, the girl who was a celebrity of sorts, though had the arrogance of ten celebrities and attitude that could put anyone off. She was the girl who aced all her classes, who had the perfect combination of brains and beauty. And then of course, she lost perfection and achieved legendary status no one would ever forget, when she took on the proposed Wiccan Club, a group of goth students she saw only as freaks.
It's the sequel you never saw cumming, and yet in this tale two years later, we find Emmy Shaw graduating from college, ready to receive her diploma. Of course everyone has seen Emmy cumming for years now, her fame as a big-titted slut on campus far surpassing her former brainy self.
Emmy was cursed and as a result of those curses she lost her intelligence but gained a compulsive appetite for sex with strangers and an overly top-heavy figure. After receiving her diploma, and quite a bit more from the presenter, Emmy bumps into an old foe, Darla, leader of the now popular Wiccan Club, and fellow graduate.
Darla has a special graduation gift for Emmy, an all new curse already underway but this is a curse that can become a gift. Emmy now has the opportunity to regain all her lost intelligence and more. She can become the smartest girl on the planet if she uses this curse wisely. From now on, each slutty encounter with someone new will make her chest balloon out even more, and some small spark of the old Emmy in the back of her bimbo mind convinces her she needs to get right to it.
It's fast paced frolics as Emmy Shaw heads to the bad section of town and discovers there's no lacking of willing volunteers to screw a slutty coed and pump her brains up as much as her boobs.
Konversational Klassics
Sometimes words have much more power when spoken through casual conversation. Occasionally the dialogue alone can present the sordid swing from students to sluts, from responsible to ready to go, and from Daddy's girl to Daddy's whore.
Prepare for four Klassics, tales told only through words spoken. These tales will take you on a journey through conversation, in person, on the phone, and online. Witness the subtle and sometimes sinfully extreme changes words can have on innocents everywhere, from students to families.
In Where are My Manners? witness a girl's fear as her friends leave her alone in a bad section of town only to find that when she finally gets to her car and begins driving home through a downpour that her check engine light is on. When she sees a friendly home and stops to see if she can ask for help, the man is more than willing to make sure Amy is well on her way to improving her life. Through speaking with this man, she finds that sometimes everything looks different when she stops to think about it, and maybe there's a good reason she was out so late in the bad part of town.
In Trance-tory Troubleshooting, discover the power retail markets have over the consumers of their products when a man calls to complain about the toaster he bought, especially why the toaster somehow seems to have made his wife and stepdaughter obsessed with each other in rather carnal ways. Customer support instructs him to try various techniques to straighten the problems out and soon enough toast isn't the only thing warming up in the kitchen as the family finds that product support really loosens them up for some real entertaining cooking.
In Calling Collect, a studious college coed takes time away from the books to place a call to her stepdad on Father's Day. Of course she'd rather not pay the fees for the call and so she chooses to call collect. Christina never realizes just what Trance-tory Telecommunications will 'collect' in order to make sure both parties on the phone are fully satisfied with their service. In the end, Christina knows exactly the special gift her Daddy will enjoy and the call is complete.
Finally, in the online chat conversation Dealing with Sperm Mail, Kerry is increasingly concerned about her friend Gabby, both of them college girls and while Gabby's usually the more outgoing one, her chats seem to be increasingly growing more and more profane and depraved. Is it all somehow related to the spam mail Kerry has gotten? Is there something going on with the bizarre fetish site sending these messages? It only takes some conversations in chat to follow the changes that both Kerry and Gabby have, transitioning from cute coeds to coed cum collectors.
SINtendo Gaming on the Go
Having just graduated high school, Casey is hoping his life of torment is over. Of course with an older brother like Heath, torment is never entirely over. High school never saw Casey achieving the fame and popularity his brutish brother managed, and certain;y never gaining the desire of the opposite sex or luck with them that Heath did. Heath might be said to be the luckiest guy in the family, definitely the one in the house with the most game. That's all before one fateful weekend where Casey discovers where to get some game himself.
All settled in with his parents away and only Heath around to bug him, Casey is ready to spend the weekend gaming on the living room sofa. Before the new game is even warmed up, Heath is kicking his little brother out of the house, insulting him with his usual lack of effort. It seems that since Heath is in charge while the parents are away, he's decided that it's finally time to get some action from Veronica, possibly one of the hottest girls in town, easily the hottest cheerleader where he attends college.
A dweeb like his gaming-obsessed brother only will get in the way and after Veronica arrives and add serious insult to injury, Casey is left with nothing to do and locked out of a home to do it in. It seems the weekend has nothing going for it, in Casey's eyes, and he grows angrier and angrier about being called a little kid by his brother and Veronica. Everything changes as he goes on a walk through the small town where they live and discovers a treasure in the trash of a wealthy home.
Tossed out like it was broken, Casey finds a small handheld gaming device and as he reads the name of the manufacturer on the back, his eyes widen. Every red-blooded hormone-crazed kid has heard the urban legend of SINtendo, the company that makes fantasies come true through gaming, the one company that supposedly makes sure gamers can control what they always dreamed of controlling. Now Casey holds proof that maybe the legend is true.
Impossible sounding and with such innocent looking design, this small handheld only features one game, but that game will prove once and for all that Casey is no kid, and he's about to take out all his frustrations by winning three levels of play that will have women of all ages discovering just what it's like to be played with.
Best of Breed 2: Pregnant Pauses is the name, and the premise is surprisingly simple. Control a random pawn, chosen within range of the device and ensure that they breed the best they can, eliminating any potential conflicts such as morality or inhibitions. Only when knocked up is there a pause between rounds and Casey is more than ready to prove what a gamer can do when that gamer has been pissed off.
From a very cute jogger to some virginal church girls, to the mother of his high school bully, Casey takes a trip through town and a gaming adventure like never before. Like every game, it must eventually end and when it does, Casey will find that there are rewards and consequences for every action taken. The reward he most definitely can live with, teaching his brother and Veronica a lesson like never before, but the consequences… well there's a reason SINtendo is only whispered about.
Kris P. Kreme presents an all new original SINtendo tale, requested by a reader and Kustom Kreated in one of the longest SINtendo stories to date.
Find it on Smashwords now!
Sticks and Stones
In school everyone is at one point told that sticks and stones may break your bones but words will never hurt you. The phrase might comfort someone from being called names but they've never experienced the true power of words which Ryan Jameson experienced the morning after his eighteenth birthday.
Everyone knew Ryan was a decent guy, did the right thing more than not, served the community, struggled like any other kid but made the best of bad situations. His only struggle that never seemed to lessen was his temper. Ryan had a short fuse and tended to let his words do the fighting for him. However, a random fortune in a leftover fortune cookie warns that this day will be different from most.
As if taking the school bus to school isn't bad enough for an eighteen year old, Ryan finds his day off to a bad start when his seat at the back is taken by none other than Kristy Samuels, the girl most guys drool over but Ryan knows is mostly a stuck up princess. When his anger leads to calling her a name, imagine Ryan's surprise when she seems to become what he called her rather than lashing back in anger.
What begins as a perverse ride to school with a redheaded working girl soon starts a domino effect where Ryan's short fuse will have him changing everyone from meathead jocks to cheerleaders, from the school nurse to the school bully and his mother. This is one day that will change the course of Ryan Jameson's life and all he finds himself wanting to do is somehow make things right.
Will Ryan find the needed control to hold his tongue? Will he discover that he can use his gift for the day wisely? Will he make a strike back at the school villain while saving the girl of his dreams? Find out in the Klassic Kreme tale that proves sometimes a depraved day can have a romantic ending.
Resorting to Extremes
Everyone decides at different times the paths they will take in life, the choices they will make, and the individuals they will become. For some it comes at the most unexpected times, a new path opened before them by fate or luck.
Emily and Hoshi have just graduated high school, looking forward to a summer away from their academic achievements and honor student roles in life. Neither of them knows just where the world will lead them but both of them hope they stick together and can always take those new paths together. The fate of a boring summer seems suddenly averted when they win a radio call in contest and find themselves swept away to a beautiful tropic resort, accompanied by Emily's parents only due to winning the contest under the age of 21.
The getaway is perfect, just the new path they needed, just the escape from their years of hard work and dedication to improving their minds. However, a mysteriously charming guest relations officer named Ryan might just change their minds about everything they have ever learned.
Five days at the resort can certainly change someone, but each day brings new changes and new choices for Emily, Hoshi, and even Emily's mother, Meredith. From choosing how they react to a shocking sight by one of the resort pools the first day, to choosing what to wear, and why they want to wear it, all three will find themselves slowly slipping into new levels of thoughts, thoughts that take them on much more than just an escape from their ordinary lives.
The resort is perfect, the guests all of certain ages and certain types, the weather always lending itself to skimpy attire and warm thoughts. Thanks to Ryan being dedicated to serving the guests, Emily, Hoshi, and Meredith discover that they can turn any disagreement into a fun filled fantasy activity, one that will stick with them for years to come, and one that will have them very quickly Resorting to Extremes.
Happy Endings
Sean has made a regular weekly visit to one particular massage parlor for three years, and not because he simply enjoys the relief of a massage. In fact lately, most massages leave him a bit stiff, though not in his back or neck. The reason for this unrelenting stiffness is Kylie, attractive young massage therapist who takes the word therapist seriously and is as professional a young woman as there ever was.
Where Sean has hinted, joked, done everything to try and make Kylie lighten up and more importantly warm up to him, she simply isn't coming around. Kylie isn't attracted to him, and so far as he can tell she may simply not be attracted to anyone, a great loss to the world as gorgeous as she is.
After a chance encounter on a street in India, during one of Sean's business trips abroad, he is offered a very special massage oil, one that will solve everything back home with Kylie and ensure that during his next regular appointment, she will be offering a very happy ending to all his problems.
When this exotic massage oil is used by Kylie at his request, much tension is released and not merely from Sean. Kylie finds her focus loosening, her blouse tightening, and her control slipping until finally she simply can't maintain her professionalism any longer. That's not a problem for Sean, as together the two of them will end their massage session happily ever after.
Tales from the Kreme with the Kreme Keeper
Come and listen to terrifyingly twisted tales, stories to spin your mind as they take what is ordinary and put the natural Kreme covered glaze to it.
In one we meet a young woman buying her first home, moving up in the world but finding that where she moves might just reshape her position in life, or more correctly offer her all new positions. Don't worry though, her new life in the home of her dreams will come with a new wardrobe of clothing, outfits sure to fit the lady of the house.
Sometimes as they say, a home has a character all its own. Well her new home will have her on her hands and knees before she knows it.
In my other fateful fun-filled fantasy, read all about a mousy girl with a last name Wilde. Yes, Laura has never been the party girl, the one to go all out or live up to her last name. She prefers the quiet calm life and even likes a little nostalgia.
After finding an old answering machine and deciding to put it to use, Laura may be getting an entirely new message about where her life is going. You see, for some strange reason whatever Laura records on her outgoing message, the message keeps changing, becoming more and more sinfully sexual until finally she gets the message and everything becomes much clearer.
Go on and find out what happens if you dare, for these are no works of fiction. These are Tales from the Kreme, with your host… me of course.
Enjoy, kiddies.
SINtendo Whee Gamers Set
Every great gaming console has a story behind it, though some truly unique ones have five. You've read about the SINtendo Whee YOO; now read about its predecessor, the one and only SINtendo Whee!, most advanced gaming system on the planet in its day.
Five fantastic original stories introduce you to SINtendo, a mysterious company out of Japan that makes a system geared towards adult needs and adult entertainment. When one of these rarely seen systems finds it way into the hands of a high school kid, no one is safe from the pleasurable pursuits of gaming, not his friends, family, or even neighbors.
Kevin has always been into hanging out with his friends and gaming, but after inviting them over to try out the new SINtendo Whee! they'll find that playing with friends can take on an entirely different meaning and even his bossy older sister will only make the gaming that much more intense.
Months after the shock of walking in on their kids enjoying the SINtendo Whee! Kevin's parents decide to bring out the console one more time for a family game night, with adult supervision of course. Nothing can stop the chaos once they've begun the game, a Trivia title called Quizmaster Deluxe, and soon each player is relating quite well with their family members.
Later, when the system has been put away and forbidden to be played, Kevin finds himself bored and decides to check out some other features of the system, discovering that creating your own gamer avatar can be much more interactive than he imagined, especially when he uses photos of girls at his school for the creation.
After the surprising results from a simple avatar creation utility on the SINtendo Whee! Kevin is cautious months later when he wants to again play a game. This time he plays alone and a game he is certain will not involve anyone he knows. His new neighbors moving in down the street might wish he'd stuck to who he knew as they find their move in day quite distracting, and in a purely carnal way.
Finally, Kevin has found himself the focus of a very demanding and punishing mother, his precious game system locked away where he can't get to it. The arrival one morning of a new package from overseas promises not only to get Kevin back in the game, but to take that gaming on the go with SINtendo GameGIRL, the very first mobile device from SINtendo.
Take a day off and spend it gaming with Kevin in the entire SINtendo Whee! Gamers Set, exclusively available now. Rated K for Kreme.
Paranormal Entry
There are stories about DeLiniac Tower, the old building located between a river and a mountain, some distance away from the small town it is a part of. It has stood for well over a hundred years, constructed by Duncan DeLiniac to house and rehabilitate the criminally insane. Over the years it has housed a restaurant and a brothel, but throughout all the years something else has resided within the walls of old double D.
Tracey and Alicia are sisters in law, attractive, exotic, and independent. For the past month they've been operating their small staff of three from the ninth floor of DeLiniac Tower and while the rent is great, the constant repairs and construction are taking their toll.
Crews have been working constantly to bring the building into the modern age and reports of mysterious sounds, voices, and even temperature fluctuations are keeping the stories about this creepy structure alive and well. When a fluke storm moves in and rages outside, power will do much more than simply flicker as something finally has the energy it has needed to make its presence known.
Alicia and Tracey, along with Zoey, Danielle, and Daphne, their staff of data entry clerks are about to find that sometimes entry is a powerful pleasurable and paranormal thing.
The all new original Kreme Tale that takes twisted to entirely new levels will have readers holding their breath as something sinister holds the occupants of DeLiniac Tower in its grasp. No matter where you work, you've never been screwed by your office like these girls.
The Matching Pair
Shoes always wear better in pairs, so it's time for a bargain buy on the most extreme footwear available. The ultimate Kreme original has been brought together in The Matching Pair. Both Shoes to Fill and If the Shoe Fits, the entire tale of a man and his amazing shoe shop in the mall are matched and mated like all shoes and potentially a few of his customers.
Every mall experiences the occasional madness but one particular mall has never seen the type of madness a new shoe shop will bring on its opening day.
A mysterious older man waits by the door to his small shop in a lonely corner of the mall, waiting on customers he will do much more than sell shoes to. This man has a history, a history of sales where the customer is not merely satisfied but fulfilled.
Every shoe has a proper fit, the right occasion, a need to be filled, and after the man assists his customers, many of them will have just as strong a need to be filled on every occasion possible. While the shoes are as varied as the customers he will meet in this epic tale, one thing will remain constant. This is an opening day no one will forget, a day where nubile teens will find carnal couplings, where families will find flirting fondness for new perversions, where all ages will feel much more than just the smooth comfort of something sliding on their feet.
No opening day goes perfectly smooth though and for the man behind the power of this shoe shop, he'll see them all. Petty thefts, suspicious neighbors in the mall, even a friendly visit from a female police officer, the man will take them all in stride.
The important strides taken though will be each and every customer who steps through his door, all of them taking sensual strides with all new sensations from their socks up as the solution to all problems turns out to be found within the soles of the shoes, shoes that possess a soul with much more than just passion.
No matter the problem, from shyness to arrogance, from jealousy to aggression, the man has a special brand of shoe to solve it. Boots, loafers, slippers, and more, along with accessories like insoles and laces; no matter the customer's thoughts upon entering the small shoe store in the mall, they will leave satisfied in every way possible.
Every shoe store has many shoes to fill, and customers will find that if the shoe fits, wear it, but rarely does footwear fade a mind into fetishes where the perversions are as limitless as the shoes on the shelves. For that to happen, it takes a certain man, and of course The Matching Pair.
The Depraved Doctor Darzula
Jason, Blake, Reika, Nicole, and Sarah are upper middle class college students who together have a passion for adventure and this summer they're off to take some chances in the tropics. While each separately might have their own fears and anxieties in life, together there is nothing they can't conquer, no fear that can keep them down.
Their journey into adventure goes well, better than planned even, as Jason particularly feels closer than ever to his girlfriend. Nicole has always been a general babe to all who see her, and now they are becoming closer and working through their own fears, both internal and external. The only fear Jason doesn't want to face is the fear of ever losing a girl like Nicole to anyone else.
Unfortunately adventure takes a turn as the final day of their tropical vacation sends them plunging towards the earth, parachuting and facing the final fear… a fear which will land them on the wrong island, a deadly island they have heard rumors about throughout their adventure.
Doctor Darzula is a figure of myth and legend among islanders, a witchdoctor who runs his own operations from the very island Jason and his friends land on, and they fall right into his hands. Darzula is a man of power, dark magic merged with modern means, and he is always looking for the next guinea pig for his perverse experiments.
With fate leaving Jason separated from his friends, watching the girl he loves taken away in the hands of brutal looking men who seem only interested in one thing from her, the time will come for escape and heroics, the odds near as impossible as the experiments the depraved witchdoctor is already enjoying.
Will Jason get to Nicole in time? Will any of his friends ever be the same? Are they all truly fucked in more ways than one? Find out in the epic length tale kustom-requested by readers like you.
Manipulation of minds and bodies has all new perverse levels at the hands of The Depraved Doctor Darzula.
The Kuickies 2 – Don't Hold Your Breath
Tim is a man ready to enjoy his weekend. He's generally an easygoing guy, married to a great woman named Melissa. Only one thing could possibly spoil his plans and that thing comes in at five foot three filled with attitude.
He knew when he married her that Melissa came with some baggage, a daughter who now at eighteen has become as spoiled and entitled as one can imagine. While it isn't entirely her fault having been the product of a single parent and not having the discipline of a father around, Sadie might just push Tim too far.
When Sadie refuses to stop blocking the television, demanding that Tim let her watch her music videos instead, Tim gets upset. When she acts like a brat and threatens to hold her breath until she gets her way, Tim becomes more than just upset.
What Sadie doesn't know is that Tim may be a nice guy but he hides a dark side, an ability that only becomes active when he's pushed too far. There's no alternative; Tim is going to enjoy his weekend one way or another.
Falling into S.I.N.
It seems like every year now there is some new strain of virus that sweeps the news, that spreads randomly and strikes without warnings. The 24 hour news networks are always in a panic, stirring up overreactions, creating and keeping fear alive as these supposedly deadly viruses swarm some corner of the world. For most, we've grown used to ignoring the news, knowing that modern medicine will successfully tackle any virus that happens to mutate and cause panic.
What if we're all wrong? What if the next virus out there is something different, a sickness that spreads by mere touch and doesn't cause fevers as much as it turns up the heat? So begins the story of S.I.N. the virus whose shortened name is no less over the top than the full one. S.I.N. is reported about to a girl watching the news before heading to school, a news report that even her parents brush off.
Dina has never been the girl to be irresponsible, to be reckless in her passions, preferring to keep her grades up and her clothing on, unlike some girls her age. However, maybe there is more to these random reported outbreaks of S.I.N. than she thought.
From sightings along the road to school, to her classes and the halls between classes, everyone seems to be behaving differently, very wrong, and no one seems to care. Everyone is falling quite comfortably into S.I.N. and Dina is not far behind.
The virus is spreading, the world is changing, so can a girl like Dina or her family ever be expected to survive in it or will their bodies become far too inflamed in a new lust for life, one where no treatment is needed?
Some stories encourage healthy enjoyment; others demand unhealthy obsessions. Fight through allergy season this Spring; stay well, otherwise you may just find yourself Falling into S.I.N.
Warping Minds at The Knowledge Bank
Charles Martin was just another victim of the economy, an unemployed man fighting against time and the crowded interviewing process everywhere he could apply. He sent applications all over, online and off, and one of those applications returned the opportunity of a lifetime. Charles was invited to work at The Knowledge Bank.
Perhaps the most advanced building on the face of the planet, located in a remote town called Krystalis, The Knowledge Bank was no ordinary structure. It was a smart building, and like smart phones, smart cars, and smart anything else, this building knew intuitively through advanced programming just where each employee belonged. Everything was advanced, from the elevators knowing what floor an individual needed to be on at what time, to the most eccentric and intelligent individuals working on various top secret projects. It was all too good to be true for Charles Martin.
As the training began and he met his close team of individuals, rumors were heard, stories told about a mysterious thirteenth floor and how no one ever went there, and those who did came back… different. Something was changing the employees at The Knowledge Bank, something was corrupting them, making them a shell of the moral upstanding individuals they once were, and Charles Martin witnessed it all firsthand.
Witnessing his own team slowly breaking down, one at a time, going from business to pleasure and seeming entirely oblivious to the changes, Charles broke free and these are the final words, his last warning, the true story of what was Warping Minds at the Knowledge Bank.
Read the Klassic that introduced a tense air of mystery to the usual Kreme flavors, and find yourselves walking step by step through an advanced building full of mystery and mayhem.
Nursing a Hangover
For a young woman like Ivy, coming to work each day for Doc Stacks, one of the many Los Angeles Cosmetic Surgeons, is never easy. She had hopes and dreams when she went to nursing school, hopes and dreams her family back overseas shared and ones they might regret given the fact she isn't in a clinic where lives are saved.
Ivy is a nurse, but not the nurse she dreamed of being and after a night out with some of her more promiscuous nursing school friends, she feels the pounding in her head as she enters work on what promises to be another ordinary day at the clinic, ushering voluntary patients in for consultations with Doc Stacks.
The waiting room is lightly filled. A man and his wife bicker back and forth over their reason for seeing the doctor, clearly the woman not interested in having anything enhanced even as the man subtly pushes just to consider it. A couple of college girls appear ready to say goodbye to their own partying past and plan to have some tattoos removed. And then there is the mystery man who waits rather quietly in the corner. This man alone will ensure that Nurse Ivy and everyone else at the clinic has anything but an ordinary day.
As soon as this man's name is called, a rather recognizable chaos ensues, and Ivy will feel her hold on reality crumbling as she does everything from unprofessional techniques coaxing Doc Stacks from his office, to blatant behavioral changes that would shame far more than just her family back home.
Every patient leaves the clinic enhanced, whether they want those enhancements or not, and Nurse Ivy finds that Los Angeles may be the land of the fake but nothing is fake about her own enhanced body. What begins with a mere pounding in her head ends with an entirely different type of pounding.
If The Shoe Fits
Every good shoe comes in pairs and so the time has cum to slip on something mind-blowing once again.
The man is back and this time he's handling petty thefts, suspicious neighbors in the mall, and customers of all ages and needs, though after they've been properly fitted these customers all seem to have quite similar needs.
When shoes went missing in Shoes to Fill, security measures were already in place but these are measures no one expects and soon the unexpected will become quite pleasant. When a neighbor in the mall sees customers leaving much more lewdly satisfied and depraved than when they entered The Shoe Shop, he calls in the police, but who will really end up getting busted? Finally, when customers plan a late night crime, find out what happens when someone untrained in the art of fitting these special selections of shoes gets a hold of them.
No matter the problem, from shyness to arrogance, the man has a special brand of shoe to solve it. Boots, loafers, slippers, and more, along with accessories like insoles and laces; everything does much more than make a customer's feet look good and no matter the customer's thoughts upon entering the small shoe store in the mall, they will leave satisfied in every way possible.
They say if the shoe fits, wear it and what you wear says a lot about who you are or what you're into. With shoes like the ones offered by the man, footwear has become a fantasy everyone will be into. Enjoy the very filling conclusion to the epic shoe stories by the Kreme!
Benny The Bumbling Bunny
It's Spring, the time when everything blooms, when there's something in the air, but it isn't what's in the air that will create such enjoyable havoc this Easter. To celebrate in only the hoppiest way, meet Benny the Bunny. He's all set to become the latest officially licensed Easter bunny and all he has to do is pass his first field test.
The truth behind the legend of the Easter Bunny is told through only the Kremiest stories as Benny the Bunny becomes famous for his loveable bumbling ways and gets started on his path to being one of the most famous of the many mythical Easter bunnies.
As an Easter bunny, Benny only needs to deliver very special eggs to the thresholds of human homes, the delivery of these hidden eggs assuring that the magic of Spring and fertility will spread to the married couple that lives there. Unfortunately, Benny has more enthusiasm than attention to details and so his first Easter is a series of hapless mistakes, eggs being delivered to wrong locations, eggs being discovered by unmarried individuals, and even eggs being consumed by mistake.
All of this leads to one massively successful celebration of fertility, and even if his methods are chaotic, it assures that Benny the Bumbling Bunny will be a happy Easter bunny for years and years to come.
Enjoy not one but two fun filled Benny the Bunny adventures!
Double Stuffed Kookies
Melissa Miller is the girl every girl envies in school, the senior with a smart head on her shoulders and nothing holding her back from the best final year ever in high school. She's a shoe-in for Prom Queen and this year she is determined not just to take the crown but to make this the best prom in the history of her small town. All she needs to do is bat a few eye lashes and dress to impress as she raises money for the prom by selling cookies.
Sometimes they say it's best to quit while one's ahead and Melissa would have done well to heed that warning, to resist the impulse to improve a record cookie selling day by selling to the mysterious man in the brick house. No one knows this man but rumors are spread each and every year, rumors of what this man does, what happens to those who disturb him, and more importantly why never to set foot on his doorstep.
From the moment Melissa Miller sees that door swing open everything changes, including her. Soon it won't be the head on her shoulders that she needs to concern herself with but the boulders those shoulders support. Soon she'll learn her fate, a fate quite similar to the double-stuffed cookies she's attempting to sell. In the end, Melissa Miller is still the best salesgirl in her school, but what she might be selling is an entirely different product.
Game On Game Off
Guys love gaming and there's a new arcade in town where gaming will be taken to an entirely new level. In this arcade, called Game On, guys will be able to play with everything they could possibly want to play with. Before that happens though, Ian, the arcade owner is looking for some girls to help bring in the crowds. Fortunately a couple of girls, Samantha and Katie, just happen to stop by, eager to get in from the heat outside. Before long things will be heating up as these two girls find the machines at this particular arcade too addictive to resist.
Ian's arcade is a very special one, geared towards the growing adult gamer market, and as such all the game machines feature titles the girls have never seen before. Playing games comes with consequences and both girls will find that win or lose, the male visitors of Game On will come out on top in the end, in more ways than one.
Of course to keep an arcade running successfully these days takes promotions and special events. Ian finds this out when months later Samantha and Katie take some needed leave from their thoroughly enjoyed employment there. No problem for Ian though as he's a creative thinker and knows exactly what his target customers are looking for. A phone call or so later and Game On is hosting three of the top female gamers in the country. No matter their age, no matter their skills, these three will find that the challenging machines of this particular arcade will bring them to their knees and that's all perfect for the audience there to watch them play.
It's time for readers to get their Game On and discover that as retro as arcades may be, anyone can get more than their Game Off these days.
Kreme of the Krop 2013
In the orchard of orgasmic tales, only the most memorably moaning make it to market. Those tales are called the Kreme of the Krop. For this first annual Kreme of the Krop, six sensationally sexual stories are brought together for one unbelievable blast of bliss, a bargain seen once a year where for a price lower than ever purchasing six separate tales, readers are treated to the best of the best, the breast of the breasts, and only the must of the lust. Kris P. Kreme presents Kreme of the Krop 2013.
A $16.00 value for 50% off what they would be individually!
Try the best of the Kreme!
In Artistic License, Laura and Dakota are good girls, and like any good girls they spend their Saturday at the library studying, preparing their minds for school so that Sunday will be free for church. They are sweet, friendly, and completely dedicated to a moral, ethical, and responsible life.
Things are about to change for Dakota and Laura, and it all begins with a little lesson in art appreciation. On their way to the library, the girls stumble upon a man in the park, a man who they have never seen before but then traveling artists are often more recognized for their work than their faces. This man is a caricature artist, a man who takes what he sees and exaggerates features, twists and creates images cartoon in nature, but perhaps carnal in reality. At least that is how his caricatures seem to Dakota and Laura.
After having their caricatures made, the two simply can't get over the images, can't put them out of mind, and so begins the journey down a new road in life, a life where the only thing more twisted than the caricatures is what these two girls spend their day and every day forward doing.
A brand new Kreme original is followed up by two exclusive Kreme Klassics, never to be seen outside of this Kreme of the Krop special. In the first, find out just how entertaining an infomercial can be in the only story ever to be inspired and written in commercial format, a product advertisement for Head Off with testimonials sure to sell you on the best way to handle problem girls in your life.
Next up in the Krop is a tale which has seen more requests for sequels or just more in the series than surprisingly any other, a simple tale where conversation changes everything. My, How you've Changed is a Klassic where a chance encounter leaves nothing to chance.
Finally to round out this year's Krop, read three of last year's newest Klassics as chosen by the Kreme himself, complete with introductory comments you won't find elsewhere, insights into the mind behind the mayhem. The three instant Klassics from 2012 are A Calculated Risk, which features a gift which keeps on giving, One Giant Leap, which takes the reader on a mysterious journey beyond the stars and into epic alien landscapes, and Words Can Never Hurt You, which ironically proves that actually they can, but it feels so good.
New readers and old alike, join the Kreme Kollective and take a journey through all things twisted and torrid, Tales from the Kreme that go beyond simple sex stories, tales that are ripe for the reading. Kreme of the Krop 2013 is finally in season.
A $16.00 value for 50% off what they would be individually!
Three new stories and three of the best from 2012!
Lenny the Lecherous Leprechaun Kollection
Long ago, Lenny the Leprechaun was banished from his home, from a magical realm into our world, a world where Lenny grew to enjoy what was intended to be his punishment. You see, Lenny always had an eye for the ladies, particularly human ladies. He was an observer and great admirer of the fairer sex and Lenny likes to use the curse he was given to make sure sex is fairly distributed.
In truth Lenny the Leprechaun was always a lecherous soul if a friendly one and now he is cursed to wander this world without a home, without a people, and come St. Patrick's Day, should he be seen by human eyes, Lenny must grant a wish, one wish per person. The only thing is that with a lech like Lenny the Leprechaun, wishes are bound to be anything but ordinary when he makes them come true.
Celebrate St. Patrick's Day the way only a cursed leprechaun can and raise up a drink while this exclusive Klassic Kollection raises more than your blood pressure. Lenny the Lecherous Leprechaun's origin and epic experiences are bundled together for the first and only time ever, fresh from the Kreme.
Join Lenny as he handles his discovery in a small apartment building, making sure the tenants are more than friendly, then follow up with Lenny as he hides away in a large shopping mall where a special late night event results in much better pursuits than shopping. The phrase goes Kiss me, I'm Irish, but with Lenny around, kisses are the least of your worries.
The Kuickies #1 – Cummin' Round the Mountain
Anna is lost, lost on Mount Chawore, alone. Having enjoyed the peaceful day of hiking, she finds herself surrounded by the thick overgrown natural world, away from any people, away from the regular stresses of college life, and away from her boyfriend who broke up with her just days before. Anna isn't as upset about the boyfriend since he was a pervert interested mostly in getting her alone for pathetic attempts at having some kinky fun. She is upset at being lost though, especially as the sun seems to be getting lower on the horizon.
Searching for a way back to where she parked her car, Anna encounters some strange men, both in the forest and along a thin winding road. These encounters leave her feeling out of sorts, discovering all new things about her own thoughts, her own desires, and one ultimate surprising discovery about the mountain she has spent the day wandering and what mysteries it might hide.
The Komplete Brain Drain Kollection
One of the most popular series from the Kreme is the series of stories that tells what happens when certain lucky, and not so lucky, girls discover Brain Drain and all of the things that it can do for them… or more accurately… to them…
The Komplete Brain Drain Kollection presents all five tales of a mysterious and addictive website where girls of all ages can reshape and perfect their bodies at the mere cost of their intelligence, their morality, their inhibitions, and more. Who needs to be smart when you have a body no guy can resist, and who needs responsible ethical behavior when all a girl wants to do is every guy around?
Long ago, on a campus far far away… okay, not that far away and not that long ago, a busy coed found a website called Brain Drain, a site that promised a solution to every physical flaw an attention crazed girl her age could need, and at the cost of no money at all. Yes, Brain Drain was the miracle cure for everything from wanting larger breasts to desiring longer, silkier hair, even perfecting the supple curves a nubile coed always needs to have to have boys drooling. The only downside, the cost of these miracles might just leave her drooling in the end.
Brain Drain transformed Kimberly into an eager busty slut. It went on to find viral access to students on other campuses, transforming Alexandra Caster into Cassy, the curvy nymphomaniac, perverting a shy coed named Amanda into Mandi the triple-teaming bimbo babe, even going mobile and falling into nefarious hands who changed an overweight coworker, Summer, into a girl willing to screw through every season. Finally, the Brain Drain application was found in a hospital and left one med-student in a rather brainless state of mind, with a career change of depraved desires.
Together for the first and only time, this is the Komplete Brain Drain Kollection, all five increasingly epic adventures where a girl can trade brain cells for boobs and inhibitions for curvy hips, where the phrase getting fucked stupid takes on entirely new meaning. Brain Drain may appear again in future tales but this is the only Kreme approved Kollection of the whole series ready for enjoyment. There have never been impulse buys quite like ones a Brain Drain shopper purchases, as women of all ages can't resist the impulse to dwindle their mental credit down to dimwitted ditzes.
Shoes To Fill
They say that with the right shoes, one can take steps in all new directions. The new shop at the mall is about to send customers in the direction of delectably deviant diversions, one sensual step at a time. Read the all new Klassic Kreme tale which will shock and seduce readers into never looking at shoe shopping the same way again. Every soul has a sole and certain shoes will wrap those soles in pleasure, especially when there are so many Shoes to Fill.
The mall has long been a place that draws a crowd and with that crowd comes a craze for shopping, one often referred to as mall madness. The mall has never seen the type of madness one new shoe shop will bring on its opening day.
A mysterious older man is proudly waiting by the door to this small shop in a lonely corner of the mall, waiting on customers he will do much more than sell shoes to. This man is a man with a history, a salesman who sells products with that special something that ensures the customer is not merely satisfied but fulfilled.
Every shoe has the proper fit, the right occasion, the need to be filled, and after the man assists his customers, many of them will have just as strong a need to be filled on every occasion possible. The shoes are as varied as the customers but one thing remains constant. This is one opening day no one will forget, a day where nubile teens will find carnal couplings, where families will find flirting fondness for all new perversions, where all ages will feel much more than just the smooth comfort of brand new footwear.
They say that with the right shoes, one can take steps in all new directions. The new shop at the mall is about to send customers in the direction of delectably deviant diversions, one sensual step at a time. Read the all new Klassic Kreme tale which will shock and seduce readers into never looking at shoe shopping the same way again. Every soul has a sole and certain shoes will wrap those soles in pleasure, especially when there are so many Shoes to Fill.
For more of the man in the special shoe shop at the mall and his opening day exploits, to find out just what happens when shoes are swiped, to read about more happy shoppers purchasing everything from boots to laces, and to follow what happens when a fellow mall vendor gets suspicious, read If the Shoe Fits by Kris P. Kreme, coming out during March 2013! Look for it and enjoy the very filling conclusion to this epic shoe story.
Glowing Green with Flowing Cream
The Kreme releases something very special for this, the next story in the Kreme Kustom Kollection Singles! He tackles his very first Kustom Kollection Origin story with a unique style, told both from the perspective of the character and the view of those that character encounters.
Some men always had a fascination with where milk came from, and for some men this fascination pops up again and again during their lives. For the man with the brilliant green eyes, he freely admits that he always was fascinated by lactation, the act of a woman being milked, the combination of sexual form and function. He has lived a life where his very look can bring a woman into a docile state, where his very touch can initiate the changes that will make her as only he can imagine. Now, he is ready to tell the tale of just where his abilities came from.
For the man who no longer goes by any name, it all started with a vacation, an attempt to escape the tedium of daily life, a life where everything it seemed was going wrong. He was drowning in the grey world he left behind, but in the tropical color of a south pacific island, he just about drowned in a much more real way. Attacked by unknown creatures, brightly glowing jellyfish, he rose from the waters and washed ashore to his new life.
Since then, the man has uncovered all his abilities, his auditory talents for hearing every last thought anyone within range of him has, and more importantly the ability to alter those thoughts and the very laws of physics that rule reality for those individuals. Sure, his fascination with milk never ceases and so it pops up frequently, but this man is also on a mission in his life. He strives to not just live his every indulgence but to make sure those of the type who looked down on him in his former grey existence never look down on others again unless they are straddling and satisfying those others.
He has gone through a lot, has learned to hone his abilities, but one thing the man has never done is turn his eyes away from a pretty girl. As far as he's concerned, think what you like of him but he will hear every last thought. So caution is advised or else the floors might just get slippery with flowing cream.
A Fairy Tale Ending
Some libraries have some special books… some very special books. They can take you places that you have never imagined, or make you think of things you never did before. But a special few can also change your life…
But some say those kind of books have A Fairy Tale Ending.
Penelope has always been a girl outside her time, eighteen years old and yet living many years in the past, during a day when actual leather bound books could take one on a journey. She's a shy girl, spending her weekends alone, regularly dating only the random novels she finds at the old town library. One weekend though, her life is about to change.
During a stormy weekend, alone in the old town library, Penelope discovers a book… or rather the book discovers her. Unable to read much more of the title than the words 'Fairy Tales' Penelope sits down and begins to read, begins to let her mind journey into the pages of this mysterious novel. Three tales told through fairy tale styling, complete with morals, are found within; however these tales hold no morality and soon neither will Penelope.
Parodying much more well known tales, these are perversions Penelope has never even dreamed of and each one sends her further and further over the edges she never dared cross until finally Penelope finds a much more enjoyable way to spend her weekends in the library, a much more thrilling climax than the climax of any old book.
When reading, sometimes a book takes your mind to faraway places; sometimes the book simply takes your mind.
Soon on Amazon!
Cupid's Day Off
One of the most popular Kreme Klassics is now rewritten, expanded and has more arrows in it than ever before!
When the one and only Cupid decides to take a day off, Carl, the cupid-in-training steps in to take over. Unfortunately where Carl has a big heart and good intentions, he fails to think through the details, leaving lustful chaos in his wake.
The Kreme Klassic tale gets new life with entirely new characters, all new situations, and more extreme Valentine's pairings than readers can imagine.
Beyond the legends of cherubs with magic arrows there lies the true world of the Cupid, a being outside of normal time space that spreads love through surprisingly modern technological means. However Cupid has been hard at work for many hundred even thousands of years and is more than due a vacation, some time away from the daily grind. Yes, Cupid works much more than one day a year. This year though, Cupid is taking Valentine's Day to go off on his own retreat, away from work and away from the tedium of striking passion and love into human couples.
In his place, the Cupid High Command has chosen one of their top cupids-in-training to take over. It is a most honored chance for any young cupid but the one they chose, Carl, has more to prove than just his ability to handle the responsibilities. Carl has ideas, ideas about how the cupids can move beyond mere love and into the world of lust. Carl is a simple guy, always wanting to help humankind solve their many disagreements, and he sees lust as the most reasonable and accessible solution to that frequent conflict they have.
Carl has it all, a kind and generous heart, a love for the job, and full knowledge of the modern technological equivalent to the bow and arrows, none other than the Cupidator 3000, a unique mechanism that virtually does the work for the modern cupids. The only thing Carl doesn't have is a working knowledge of basic human circumstances, human quirks and personality traits that are what should always be taken into account before making a match. He also has a tendency to over-use the Cupidator, to rely on it to solve all problems.
When Cupid takes his day off and Carl steps in to handle the love, lust gets released in abundance and normal match making turns from flirty love and kisses to chaotic lust and much more than mere kisses. From the original Kreme Klassic comes this massively rewritten and much more detailed and in-depth look into the truth behind Cupid. With more than a third the story featuring all new material, witness Carl the cupid as he livens up a college debate, takes getting off when a cop pulls you over to new levels, and brings entirely new meaning to tipping the babysitter.
This Valentine's Day is going to be one everyone loves… and those who don't won't be able to contain their lust…
Koed Kurses
It can be hard surviving as a Coed. There's always someone that wants to make your life miserable in some way, shape or form. However, now and again, some get their just desserts. Or, if they are very unlucky… They get Kursed.
Koed Kurses takes a fairy tale and busts it wide open… In more ways than one.
Every fairy tale has a beautiful princess in her kingdom where she is adored and followed daily, and this tale introduces Emmy Shaw, a girl whose wealthy father and famous last name makes her the college queen, the princess who remains pure and untouched. Every fairy tale also has the evil villains or wicked witches and in this tale those roles would best be filled by Darla, Rolina, and Dee, the three members of the college's new Wiccan Club. They're goth girls with attitude but just who is worse might be the surprise twist proving that fairy tales aren't written in stone.
Emmy is arrogant, self-assured, reveling in her own perfection. She has perfect hair, perfect skin, a perfect body, and perfect grades. She is above all those around her and with that lofty ideal she believes having such group as a Wiccan Club is evil and wrong. Her rants and complaints are heard campus wide and no one disagrees with the almighty and ever beautiful Emmy Shaw. No one except the Wiccan Club members, that is. After a heated encounter, Emmy awakes the next day feeling something isn't right. Darla, Rolina, and Dee help her see just what isn't right as they come clean and warn her that she has been cursed, times three.
Three curses, each interwoven with the other, will ensure that Emmy Shaw poses no threat to their club's existence, and finds her own existence taking a decidedly downward turn. The curses are at work already on the girl every eye turns to on this college campus and the sight those eyes will see might just be changing more dramatically than Emmy's attitude. She faces a choice and a test of resolve. Can Emmy resist one of the curses and suffer a fate of freakish top-heavy growth or can she resist another curse and lose her prized intelligence?
In the end, Emmy Shaw still is the girl most recognized on campus, though just what that recognition comes from might prove that this sure isn't any fairy tale.
Split Steve
The second of the Kreme Klassics has arrived! The hunt is on for Split Steve, but how do you capture a criminal who can change everything you see, including himself? Find out in the latest Kreme Klassic, available exclusively for the first time in an original extended edition with content that was censored in the past!
The small town of Littleton goes about an ordinary day, shoppers visiting the large electronics store where they browse everything from the latest movie releases to the much needed computer peripherals and gadgets everyone loves.
No one is aware, however, that perhaps the most dangerous escaped criminal in history is on the loose and headed their way. This criminal, held in a secret government facility outside of town, is like no other. He has the unique ability to bend reality to his own perverse desires and what's worse, this man is not alone.
Steve Sanders is one man with the ability to create bubbles of reality, separate twisted changes rewriting not just the physical world and those around him but also the very history and future of those in that world. But Steve Sanders has multiple personalities, each deadly in their own way, each unique in the perverse methods of their madness.
If one mind controller with the ability to warp the very fabric of reality is bad, Steve Sanders is four times as bad and without the medication keeping his condition at bay, he is destined to create the kind of chaos rarely even imagined in the movies sold at this electronics store.
SINtendo Whee Yoo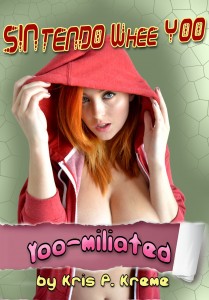 Finally, after years of development in the Kreme Labs, after months of testing on "volunteers", after so much user feedback that the servers crashed from the load…
SINtendo Whee Yoo arrives!
Years ago readers and gamers united in orgasmic cheer to a gaming system that truly promoted some interactive enjoyment, the SINtendo Whee. In the years that followed, games were released, each one ensuring that the players put the SIN into SINtendo Whee. An underground gaming sensation, the Whee console became a true Kreme Klassic and now it's time for the next generation of console gaming to take things to a whole new level.
Featuring a brand new design and controllers that will put players more into the games than ever before, meet the SINtendo Whee YOO. This is a game system like none other, where YOO take control of the world around you, YOO choose who you play as, and yes YOO serve as the proprietary memory. Don't worry, the SINtendo will re-allocate your body for better memory storage, or is that mammary storage?
Kelly has always been the girl who never reached a place she felt destined for growing up. Having always had the vibrant red hair she saw only busty lust-inspiring women have, she was certain one day she'd be the one everyone envied. Unfortunately she never quite matured the way she expected and now she finds herself about to leave high school nearly as flat as the flat-screen television she and longtime friend Kyle frequently play video games on.
Kyle's apparently gotten a new gaming system, one he is far too excited about on the phone, and what begins as a boring Saturday trip to play some fancy new game system will end anything but boring. Along the way to Kyle's house, Kelly bumps into Missy and Lana, two of her torturers from school and also two of the most curvy over-mature looking teens she has ever seen. The meeting turns out to be fate as Kyle explains how the video game he has will allow the use of Missy and Lana as characters in a game where ultimate humiliation is the goal.
What Kelly has no idea of is that the game characters are real and whatever she and Kyle do during the game to humiliate the two cruel girls, they suffer the same and humiliation quickly takes a decidedly slutty and public turn. Throughout the game, Kelly finds everything changing, from her attitude towards the two girls to her own slender figure. By the time it's Game Over, Kyle may be playing with his gamer girl pal Kelly in an entirely different way.
Shaking Things Up – A Kreme Readers' Choice Story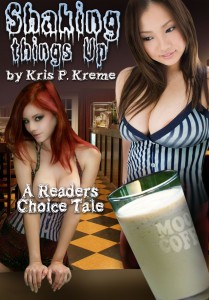 An all night quaint little coffee house is about to be anything but quaint as the workers and customers find better reasons than coffee to stay up late. A mysterious man is stopping by for a visit, a man readers may recognize, but only by the striking green of his eyes. This man has struck before, taking what he wanted and leaving businesses in chaos but this time he merely has a craving that needs to be filled.
The man whose eyes see more than just the outside of an individual only wants a tasty milkshake. Unfortunately for the baristas at Moonlit Coffee, they mistakenly believe that they don't possess the equipment needed to provide him with his craving. After waiting in line and seeing how lacking in service these two attractive coeds are, he decides to change his tactics from the previous uses of his unique talent.
In the past and more frequently, the man only uses those he needs as a distraction, looking into their thoughts and seeing the real purpose they can serve, changing them into someone who enjoys a little public attention and who quite possibly has a particular craving that surpasses his own on this night. This time, he's not looking for a distraction to take attention off him. This time the distraction will be for his own entertainment while he awaits his milkshake from the baristas.
Rachel Chin, the exotic asian barista with long flowing silky hair over smooth milk-white skin, and Jillian, the vibrant spunky redheaded barista will discover they not only have all the equipment needed to give him his milkshake, but they will need to upgrade that equipment, enhance it to provide much better volume. As they go about some true job growth, the man turns his eyes on the late-night crowd, adding spice to their coffee that they didn't order and twisting their bad qualities into entertaining ones.
For those at the Moonlit Coffee, not far from the interstate, it's about to be a very long night. What will happen to the older teen girls who giggle and tease with their short skirts and flat little tummies? What will become of the chunky man who likes to do all the talking for his incredibly attractive wife? What about the high society couple that looks down on such crude behavior and has let intelligence turn them into snobs? Finally, will the man with the green eyes settle those eyes on the milkshake he stopped by for and if so, whose equipment turns out the better product, Rachel's or Jillian's?
Find out in the latest Reader's Choice Tale, featuring three of the top vote-getting themes in the past several months, as well as two completely bonus themes. New tales will be on their way in 2013, different themes in each decided on by readers such as you. For this one though, enjoy a little Kreme in your coffee.
Krem de la Kreme – Kustom Kollection #7
Time for a taste of the finer things, and nothing is quite as fine as the tasty morsels in two more custom requested Kustom Kreme tales. These two tales are only the latest on the menu, the Krem de la Kreme of reading material for those of a refined taste.
Matters of Convenience
Jeff always liked taking the easier of two paths, coasting through life, even coasting through relationships. Surprisingly he has been unusually fortunate with how things turned out, stumbling into a relationship with a very attractive younger woman. The problem is, Katie is a go-getter and always has been, definitely the flip-side to Jeff's coin.
Marrying Katie was a great thing, convenient to Jeff, allowing him a relaxing life where he expects to get all a man could want. Unfortunately, Katie wants more and so the topic of counseling with a therapist comes up. Therapy is not only expensive to Jeff but the very thought of it is inconvenient, pouring out his personal problems to some guy who rakes in the dough for listening.
So Jeff tells of the unusual solution he came up with, the bizarre pop-up ad he clicked on innocently just wanting to find the easy way out of his problems. The product advertised seems perfectly reasonable, an all-organic mood enhancer for those who stress or have problems and as Jeff sees it, Katie is having those stressful problems. It isn't like he has changed since she met him. He just wants to avoid lengthy hassles and therapy or counseling would be a hassle.
Persuasion Powder is a simple powder that can be poured into drinks, sprinkled onto foods, and it supposedly calmed a person, helped them relax. As Jeff soon discovers, convenience may sometimes come with unseen side effects and his own failing to properly read the directions results in some rapid changes for his marriage. Reading directions was never convenient for Jeff anyway, and besides, in the end he's pretty satisfied with how Katie loosens up.
Understanding he has been corrupted by the power of convenience, Jeff still finds a way to enjoy life, with a wife who expands more than just her understanding and who is more interested in being seen than seeing any inconvenient therapist.
A Good Sport
Susie sometimes hates getting out of bed in the morning, especially to just drive to work and spend the day working at a sporting goods store. She hates the bland colors they make her wear, the fact she can't even have her hair down. Most of all she hates not being able to dress and look like a girl.
She has plans though, plans to one day find a guy who is simple enough for her to manipulate, who is captivated by her gorgeous face and eyes and who she can basically use for all her needs. Today is a day that might change all those plans. A mysterious man, one with bright green eyes and a strange gaze in them, is stopping by the sporting goods store.
This man has not long ago visited a bank and made a large withdrawal, more accurately a liquidation of sorts. Now he has his mysterious eyes set on the sporting goods store and all the profits they keep locked up in their safe. All he needs is a distraction, one that Susie is perfect for, or soon will be.
Susie leaves her encounter with this mystery man and instantly has a change of heart, choosing to eagerly assist the customers, using everything in her power to make sure they leave satisfied, but also using a rather impossible talent she never knew she had to demonstrate the various products, in only the most perverse ways possible.
Proving to be the most popular sales girl ever, Susie finds herself simplified until Simple Susie is nothing but a desperate slut who knows sex sells and whose body is more inflated than her ego ever was.
Sometimes, it doesn't pay to get out of bed, but then Susie is just being a good sport, and more than just a pleasant distraction.
Keep watching for the latest Kreme to kome!