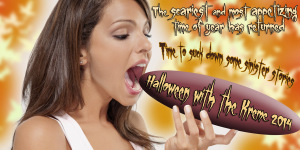 Tis the season where the Kreme opens the door
to the world of the Kreme Keeper…
What evil will be the Kreme's treats this year?
A walk in the park?
A ghostly apparition?
A curse and a hex?
A chance for some SINtendo tricks and treats?
You can be sure that all of them will have that special touch of Kreme
that brings out the bimbos at their finest!
Watch out!
HallowKreme 2014 is here!