Many readers enjoyed the story called Konversationally Speaking, but they never expected a sequel… until now. Going Down is the semi-sequel to Konversationally Speaking by Kris P. Kreme, the semi-sequel you never expected!
Available on Smashwords for 99 cents!
Available on Amazon for 99 Cents!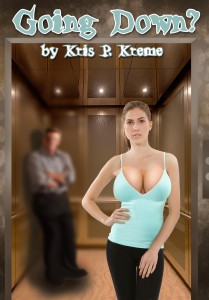 Elevator etiquette might make conversations a rare occurrence but that isn't going to stop a mysterious man from engaging in a little interesting conversation with Sasha. Kevin probably never had any idea just what a mistake it was waking his girlfriend and sending her down to request a manual wake-up call when realizing the phone in their hotel room doesn't work. He'll find out eventually as Sasha meets an older man with some rather skillful conversational skills. One thing is certain, next time he sees his girlfriend, he'll get more than a wake-up call.
During the course of an elevator ride that covers more than 40 floors, and stops on each and every one thanks to a midnight prankster, Sasha will find that maybe she isn't as angry about having to go down as she thought she was. In fact, her boyfriend asking her to go down to the lobby might just have been exactly what she needed, though in the end going down won't be a problem at all for her. Neither will getting back at her boyfriend as Sasha finds herself quite open to some on board antics in the elevator.
It's all in the conversation as this all-dialogue story shows, and as we once again see the same mystery man from Konversationally Speaking working his special skills.
Available on Smashwords for 99 cents!