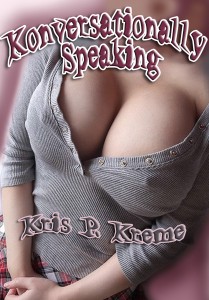 Ever notice that when you say the wrong thing at the wrong time things… happen? What if you said the right thing at the right time? What happens then?
Find out in the newest Kreme story….
It's all about the spoken word and how powerful a conversation can be when a man wandering the aisles of a large bookstore encounters a friendly girl who attends a local religious college. She agrees to help him find what he is looking for but somehow as conversations often do, one topic veers off into a number of subjects. From literature to psychology to the inner workings of human sexuality, this is one conversation that only builds into a climax no book on the shelves around them can hope to match.
In the end the friendly college coed might find herself heading in a new direction in life, discovering just what she has been desperately needing, and planning some new extra-curricular studies, all thanks to a chance encounter with a mysterious stranger and some Konversational speaking.
Konversationally Speaking is an all-dialogue story, featuring nothing but conversation and telling a tale from the Kreme in a whole new way.